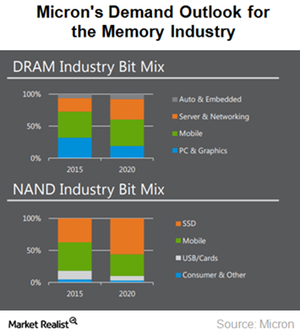 The Cloud Server Market—Micron Technology's Next Big Opportunity
Server DRAM
In the previous part of this series, we saw that the technology shift toward datacentric AI (artificial intelligence) and IoT (Internet of Things) applications is driving the need for faster data processing capabilities and more storage capacity.
This trend has called for the need for increasing DRAM (dynamic random access memory) and NAND (negative AND) content per server.
At NASDAQ's 37th Investor Conference, Micron Technology's (MU) CFO, Ernie Maddock, stated that a huge amount of data is generated and stored in data centers every day. These servers need faster processing speeds to process so much data.
DRAM is a crucial component in improving data processing speed. Hence, DRAM content is increasing with every new server platform generation.
This trend has made DRAM demand inelastic, which means the demand is unaffected by price movements. Maddock explained that content per server didn't increase dramatically in 2015 and 2016 when DRAM prices were very low. However, it increased in the last 18 months when DRAM prices were increasing.
This trend resulted from the adoption of AI by cloud and enterprise data centers, which drove demand for higher processing power.
Article continues below advertisement
Server NAND
Other than data processing, servers also need space to store such huge amount of data and access it quickly, creating the need for SSD-based (solid-state drive) flash storage solutions. PCs and enterprises are increasingly replacing HDD (hard disk drives) with SSDs due to the cost and power benefits offered by the latter.
The traditional server processor market has slowed with Intel (INTC) reducing its data center growth forecast from the mid-teens to the high single digits. Intel owns more than 95% of the server CPU (central processing unit) market.
Despite this, the data center market—and the cloud server space in particular—presents a strong growth opportunity for Micron Technology as memory per server processor is increasing.
Cloud servers use 50% more DRAM than enterprise servers, which has increased cloud server's contribution to Micron Technology's product mix.
Memory opportunity in data center
At Credit Suisse's 21st Annual Technology, Media & Telecom Conference, Micron Technology's CEO, Sanjay Mehrotra, stated that average capacity of flash SSD per server increased to ~2,500 GB (gigabytes) in 2017. It is expected to increase to more than 3,000 GB in 2018 and to 8,000 GB by 2021.
On the DRAM front, Mehrotra stated that average capacity per server increased to ~145 GB in 2017, and it is expected to increase to ~350 GB by 2021.
At present, mobile is the biggest end market for DRAM. The data center trends could see the cloud market overtake mobile to become the largest end market for DRAM over the next three to four years.
Next, we'll look at Micron Technology's Embedded business.