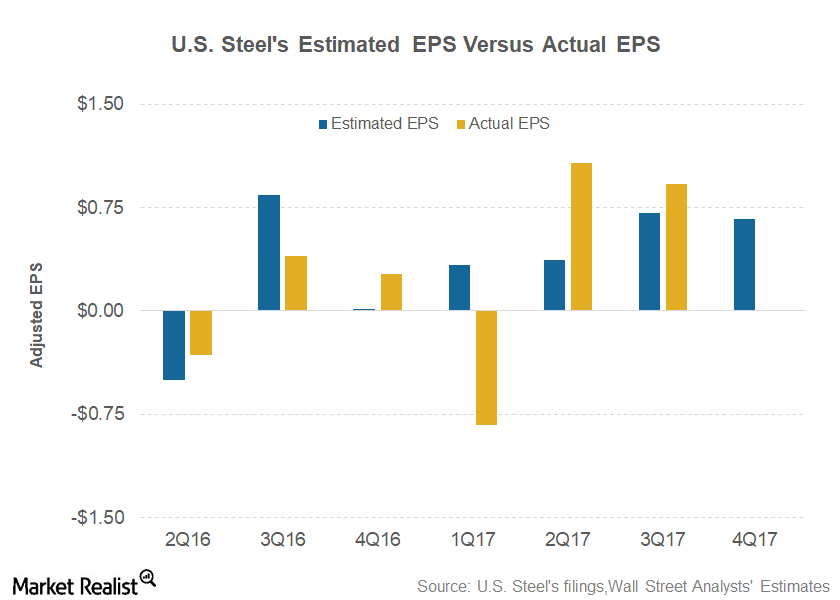 Can U.S. Steel Corporation Continue to Fly High?
U.S. Steel Corporation's 4Q17 earnings
U.S. Steel Corporation (X) is scheduled to release its 4Q17 financial results on January 31, 2018. The company should hold its earnings conference call on February 1. Looking at other major steel producers (XME), Nucor (NUE) and AK Steel are expected to release their 4Q17 earnings on January 30, while ArcelorMittal's (MT) 4Q17 earnings are expected on February 10.
Article continues below advertisement
4Q17 earnings season
The 4Q17 earnings season has started on a positive note for US steel producers. Steel Dynamics (STLD), which reported its 4Q17 earnings on January 22, posted better-than-expected earnings. Notably, Nucor and Steel Dynamics gave a lower-than-expected 4Q17 earnings guidance last month.
U.S. Steel Corporation stock continued its positive momentum from last month. Based on the closing prices on January 23, U.S. Steel Corporation has gained 13.8% this month. U.S. Steel Corporation gained 21.7% in December. Due to the upwards price action in December, U.S. Steel Corporation managed to close 2017 with gains of 6.6%.
Series overview
U.S. Steel Corporation's 4Q17 earnings are coming amid positive steel market sentiments. US steel prices have shown strength this month and have built on last month's gains. The findings from the Section 232 imports probe were submitted to President Trump earlier in the month.
In this series, we'll see what analysts project for U.S. Steel Corporation's 4Q17 earnings. We'll also look at some key updates that the markets might be watching in the company's 4Q17 earnings call. Before we look at U.S. Steel Corporations's 4Q17 earnings estimates, let's take a look at some interesting developments on the trade front.