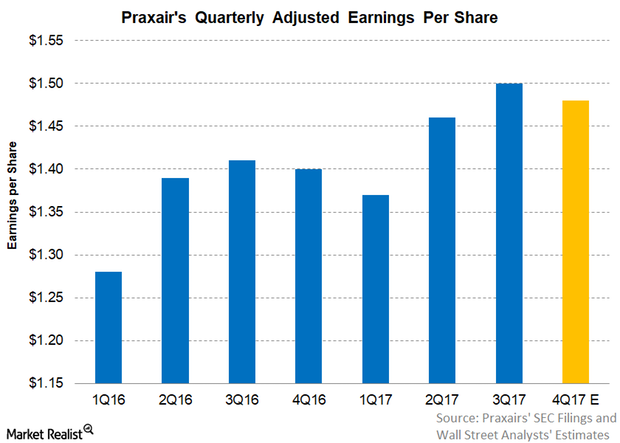 Can Praxair Meet Analysts' Adjusted Earnings Per Share Estimate?
Analysts' 4Q17 adjusted earnings estimate
As of January 15, 2018, analysts are expecting Praxair (PX) to report adjusted EPS (earnings per share) of $1.48, an increase of 5.7% on a year-over-year basis. In 4Q16, Praxair reported adjusted EPS of $1.40.
Praxair's projected adjusted EPS could be primarily driven by expected higher revenue. However, Praxair could face some challenges to meet analysts' expectations. Analysts are expecting Praxair's cost of goods sold (or COGS) to increase in 4Q17 to $1.7 billion, representing 61.6% of expected revenue. In 4Q16, Praxair reported COGS of $1.5 billion, which represents 56% of its revenue. That implies an increase of 560 basis points on a year-over-year basis. But in the past three quarters of 2017, Praxair has maintained its COGS in the range of 56%–57% of sales. We'll have to wait and see if it can manage at these same levels, which could have a big influence on its adjusted EPS.
Analysts are expecting PX's SG&A (selling, general, and administrative) expenses to rise marginally as a percentage of sales to $293.8 million. That would be 10.4% of sales. In 4Q16, it was 10.4% of sales, a marginal increase of 10 basis points.
Article continues below advertisement
Share repurchases
To boost EPS, companies often buy back their own shares. In 3Q17, Praxair didn't buy back any of its shares. We'll have to wait and see if it makes any share repurchases in 4Q17. At the end of 3Q17, it had ~289 million outstanding shares. It had $1.5 billion in its 2015 share repurchase program and $81 million in its 2014 share repurchase program.
Investors can indirectly hold Praxair by investing in the Vanguard Materials ETF (VAW), which has invested 4.5% of its holdings in Praxair. The fund also provides exposure to DowDuPont (DWDP), Sherwin-Williams (SHW), and Albemarle (ALB), with weights of 17.8%, 3.7%, and 1.5%, respectively, as of January 15, 2018.