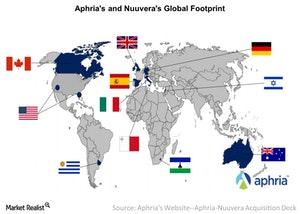 How Aphria's Global Footprint Could Change after the Nuuvera Acquisition
Aphria increasing its reach
In the first part of this series, we discussed the deal details of Aphria's (APHQF) acquisition of Nuuvera (NUUVF). After the acquisition closes, Aphria's shareholders will represent 85.2% of the pro forma ownership, while Nuuvera shareholders will represent the remaining 14.8%.
Article continues below advertisement
Global footprint
With this acquisition, Aphria has stated that it's aiming to become a global leader in the medical cannabis market. Nuuvera, which has a market capitalization of ~617 million Canadian dollars, has a larger global footprint than Aphria, which has a market capitalization of ~3 billion Canadian dollars.
By comparison, Aurora Cannabis (ACB) (ACBFF) has a market capitalization of 6.1 billion Canadian dollars and recently acquired CanniMed (CMED), which has a market capitalization of 941 million Canadian dollars.
You can see in the above chart that Aphria and Nuuvera together will likely have a presence in 11 countries after the completion of the deal. These countries include the following:
Canada
the US
Australia
Germany
the United Kingdom
Italy
Spain Malta
Israel
Uruguay
Lesotho
Why now?
It appears that the rapid momentum of consolidation in the marijuana industry (MJX) has picked up because the Canadian government is planning to legalize the recreational use of marijuana in the country. Medical marijuana has been legalized for several years in Canada.
Meanwhile, the move to legalize the recreational use of marijuana by Canadian regulators appears to have sparked the hope that other countries will follow suit. Notably, Aphria intends to focus on the medical marijuana market, which already has existing markets in the countries listed above.
To learn more about this industry, check out Market Realist's series Must-Knows before Investing in the Marijuana Industry.
Continue to the next part of this series for a discussion of what these companies could benefit from—in addition to increasing their global footprints.