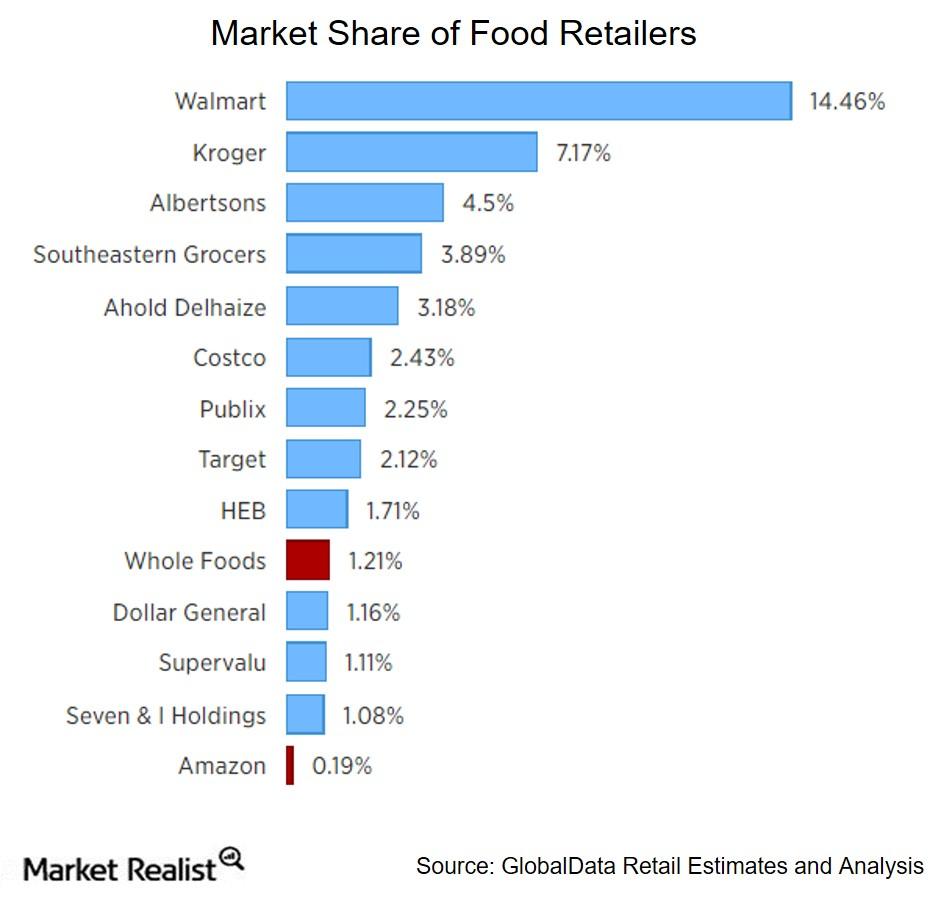 Analyzing the US Food Retail Space in 2017
US food retail sector
The US food retail industry is huge. It includes store formats that range from small grocery stores and convenience stores to supermarkets, mass merchandisers, discount stores, and even drug stores. The supermarket format represents the largest segment of the US food retail industry.
Walmart (WMT) is America's largest food retailer. Kroger (KR) is the second-largest food retailer and the largest supermarket. According to GlobalData Retail, Walmart had a 14.5% share of the US food and grocery market in 2016, while Kroger owned more than a 7% share.
Article continues below advertisement
Amazon purchased Whole Foods
Amazon's (AMZN) acquisition of Whole Foods in June was the most talked about event in the US retail space during 2017. The deal created panic in the retail industry and eroded billions of dollars from retailers' market cap.
The combination of the two companies was expected to have a huge impact on the market in terms of competition and price cuts. It would have a negative impact on grocers' already paper-thin margins.
Amazon did exactly what was expected. It lowered prices at Whole Foods after the deal closed in August. A report by Thasos in October stated that Whole Foods was able to increase foot traffic 17% in the first week of its price cuts.
It's important to note that 24% of Whole Foods' new customers were from Walmart and 16% were from Kroger. After adjusting for the size of each company's customer base, Trader's Joes (10%) and Sprouts Farmers Market (SFM) (8%) had the highest rates of customer defection to Whole Foods.
It isn't just Amazon that fueled the price battle among US food retailers in 2017. Next, we'll discuss how two German retailers' increasing footprint is making the price war more intense.