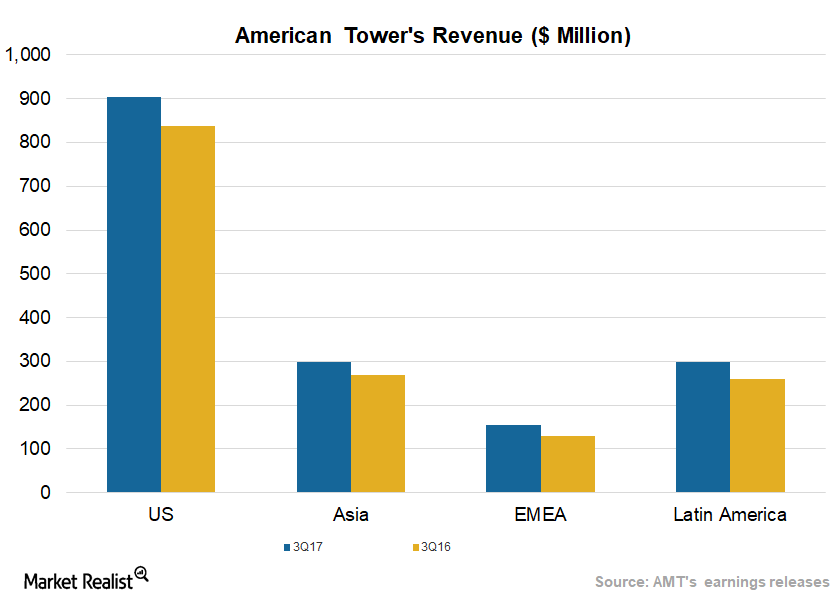 American Tower's Strong Hold in the International Market
Mexico
Mexico is one of American Tower's (AMT) vital international markets. AMT has entered into an agreement to acquire certain telecommunication assets in Mexico. They are strategic assets that could help AMT increase its footprint globally and are expected to increase its long-term capital flows. The purchase price of these assets is ~$500 million and ~$75 million in a year in which revenue is expected to be generated.
Article continues below advertisement
India
AMT expects a full consolidation among mobile operators in India. That could develop a market for mobile operators on the demand side and on the supply side among tower organizations. AMT expects mobile operators Tata, Airtel, and Reliance to consolidate, which could increase its subscriber and financial base and help AMT reaccelerate growth. According to AMT, the market exists for 800,000 to 900,000 leases and is expected to grow to 1.1 million leases.
Asia's revenue growth rose $27.6 million, of which $14.5 million is attributable to tenant billings driven by colocations and amendments and newly acquired sites. Pass through revenue growth was $13 million.
Africa
AMT has started to get a position in Africa where there are only two to three large companies. AMT is one of those companies that have aggregate assets. However, AMT doesn't currently see a large opportunity but expects it to increase in the near future.
EMEA (Europe, the Middle East, and Africa) property segment growth was $24.8 million, of which $26.5 million is attributable to tenant growth driven by newly acquired sites, contractual escalations, and colocations and amendments.
Below is the market capitalization of AMT and its close competitors:
AMT makes up ~4.4% of the ProShares Ultra Real Estate (URE).