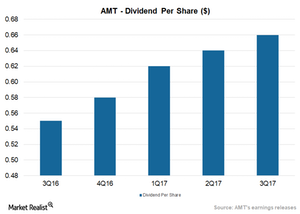 American Tower's Disciplined Capital Allocation
Capital deployment
American Tower (AMT) deployed $600 million of capital in 3Q17, bringing its year-to-date amount to $3.6 billion.
It has deployed ~$750 million in the form of buybacks.
It has deployed ~$1.6 billion in acquisitions, which includes the acquisition of more than 500 sites in the United States for $465 million. These sites are scattered across the United States and are well positioned to capture the growth of 4G (fourth-generation) and 5G (fifth-generation) deployments in the next few years.
It has deployed $1.4 billion in the form of dividends.
It spent $488 million on discretionary capex (capital expenditure) for construction and an increase in capacity for its existing sites and acquire land.
It spent $90 million in the form of non-discretionary capex.
Its ROIC (return on invested capital) for the US markets increased from 10.2% in 3Q16 to 11.1% in 3Q17. For the international market, it increased from 10.4% in 3Q16 to 10.9% in 3Q17. Its consolidated ROIC for the same period increased from 9.9% to 10.6%.
Article continues below advertisement
Dividends and share repurchases
American Tower (AMT) has paid $1.1 billion in common and preferred dividends on a year-to-date basis. It paid dividends of $0.66 in 3Q17 from $0.64 in 2Q17. Common stock dividends grew 20% YoY (year-over-year), which took the payout ratio to 38%.
AMT paid a dividend of $1.10 in 2013, $1.40 in 2014, $1.81 in 2015, and $2.17 in 2016. The dividend growth rate has increased 23.2% in a span of three years and 23.8% over five years.
The company has repurchased more than $100 million of common stock in the current quarter, bringing the total to $750 million.
Below is the forward dividend yields of AMT and its close competitors:
AMT makes up 4.4% of the ProShares Ultra Real Estate (URE).