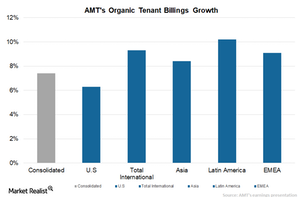 American Tower Riding High with Strong Organic Growth
2017 outlook
American Tower (AMT) has increased its 2017 revenue outlook to $6.55 billion from $6.53 billion, an addition of $15 million and a 0.2% increase. That's a 15% rise from its 2016 revenue of $5.71 billion and is primarily due to $21 million in FX (foreign exchange) impacts, $9 million from acquisitions, $7 million from a delay in India, and a few million from other factors, all partially offset by $27 million in the form of revenue reserves in India.
Article continues below advertisement
The outlook for adjusted EBITDA (earnings before interest, tax, depreciation, and amortization) also increased from $4.08 billion to $4.09 billion, for an adjusted EBITDA margin of ~62% and a 15% YoY (year-over-year) growth. The increase is mainly due to FX favorability, new assets, and increased operational efficiency.
On the other hand, consolidated AFFO (adjusted funds from operations) has increased from $2.86 billion to $2.89 billion, an increase of ~16% YoY. That growth is due to an increase in adjusted EBITDA and low capex (capital expenditure).
AMT's close competitors Realty Income (O), SBA Communications (SBAC), and Crown Castle International (CCI) have expected revenue for 4Q17 of $0.31 billion, $0.44 billion, and $1.1 billion, respectively. AMT makes up 4.4% of the ProShares Ultra Real Estate (URE).
3Q17 results backed by strong organic growth
AMT's revenue grew 11% to $1.7 billion in 3Q17, driven by organic growth of 6.3% in the US markets. One of the key factors was the adoption of unlimited data plans by users for all the major operators. According to a study, users switching to unlimited plans consume twice as much data on a daily basis. These factors, along with the reduction of costs by improving spectrum, could help AMT improve performance in 2018.
Property revenue increased 10.5% to $1.7 billion in 3Q17. Organic tenant billing growth was 7.4%, and tenant billing growth was 9.5%.