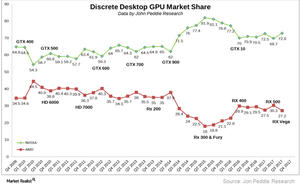 Advanced Micro Devices: Radeon Technologies Gets New GPU Talent
By Puja Tayal

Jan. 31 2018, Updated 10:30 a.m. ET
AMD's GPU head joins Intel
Advanced Micro Devices (AMD) created RTG (Radeon Technologies Group) in September 2015 to develop GPUs (graphics processing units) that can compete with Nvidia's (NVDA) GPUs. Under the leadership of Raja Koduri, RTG developed Polaris and Vega GPUs and succeeded in making its mark among mainstream consumers and crypto miners.
In November 2018, Koduri left AMD to join Intel (INTC), where he will head up the newly formed Core and Visual Computing Group. In his absence, AMD's chief executive officer Lisa Su headed up RTG. The loss of Koduri didn't deter AMD from developing new GPUs, which was apparent from its GPU road map and expanded GPU portfolio, which it announced at the CES (Consumer Electronics Show) 2018.
Article continues below advertisement
AMD brings in new GPU talent
AMD recently hired Micron Technology's (MU) mobile business unit head Mike Rayfield as the senior vice president and general manager for RTG. AMD also hired David Wang as senior vice president of engineering for RTG. Wang was with ATI Technologies when it was acquired by AMD in 2006.
Rayfield is experienced in mobile business, heading the mobile businesses of Micron and Nvidia. At Nvidia, he headed the team that developed its Tegra SoC (system-on-chip). At AMD, he will be responsible for strategy and business management of RTG, which offers consumer graphics, professional graphics, and semi-custom products.
Wang has served in the role of senior director in discrete graphics engineering, GPU silicon engineering, and product design engineering at ATI and AMD. He has seen the development of AMD's GPUs, CPUs (central processing units), and APUs (application processing units).
He left AMD to join Synaptics (SYNA) as head of silicon systems engineering. Now he's returning to AMD to handle the entire graphics engineering of RTG from technical strategy to architecture, to hardware and software.
Developing a GPU is a very lengthy process and requires at least three years. Time will tell whether RTG's new management team will stay competitive with Nvidia.