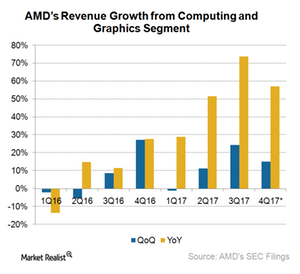 Advanced Micro Devices: Computing and Graphics Segment in 2018
Computing and Graphics segment
Advanced Micro Devices (AMD) created a lot of hype in 2017 with its Ryzen CPU (central processing unit) rollout. In 2016, its Polaris GPU (graphics processing unit) created the hype. Ryzen competes with Intel's (INTC) Core CPUs, and Polaris competes with Nvidia's (NVDA) Maxwell GPUs.
AMD reports its revenue from PC (personal computer) CPUs and GPUs in its CG (Computing and Graphics) segment. As you can see in the above graph, CG's revenue rose in the double digits on a YoY (year-over-year) basis from fiscal 2Q16 when AMD launched its first Polaris GPU. CG's YoY revenue rose above 50% on a YoY basis in fiscal 2Q17 and 3Q17 when the company launched its Ryzen desktop CPU series. The competitive product mix brought CG to profit for the first time in two years in fiscal 2Q17.
AMD has entered the high-end CPU market with its Threadripper series and the enterprise market with its Ryzen Pro series. At the CES (Consumer Electronics Show) 2018, the company unveiled its Ryzen road map for 2018.
Article continues below advertisement
AMD cuts Ryzen prices
At the CES 2018, AMD announced price cuts for its top-end Ryzen 7 and Threadripper CPUs, passing on to consumers what it saved from its reduction in production costs. AMD reduced the price for Ryzen 7 1800x by 30% to $349 and the price for Threadripper 1900X by 18.2% to $449.
Could price cuts be beneficial for AMD?
The price cuts come at a time when Intel's PC CPUs were found to be vulnerable to the design flaws called Meltdown and Spectre. These flaws enable user applications to read sensitive data such as passwords stored in the kernel memory of a CPU. The software fixes offered by Intel have significantly slowed down the performance of older generation Broadwell and Haswell processors.
The timing of AMD's price cuts could help the company boost chip sales since it provides customers a cheaper and comparatively safer alternative. (AMD's chips are vulnerable to Spectre but they are immune to Meltdown.) A consumer looking to buy Intel's i7-8700K Coffee Lake processor for $359 may pay $10 less, or $100 more for the Ryzen Threadripper 1900X. That could help AMD gain meaningful market share from Intel.
However, it can't be said with surety that AMD's price cuts and Intel's chip flaws will bring market share gains for AMD. Intel could, in turn, use all its means to protect its market share. It might lower its prices or develop faster CPUs by transitioning to 10 nm (nanometer) process nodes.
Next, we'll look at AMD's Ryzen rollout for 2018.