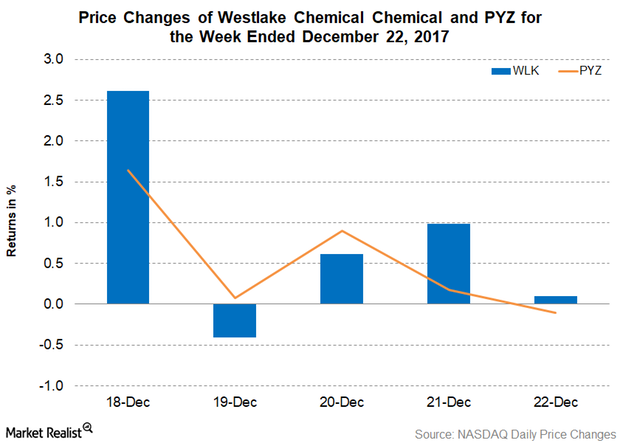 Westlake Announces Optional Redemption of Senior Notes
Westlake Chemical to redeem senior notes
On December 18, 2017, Westlake Chemical (WLK) announced that it had sent notices about the optional redemption of $688 million in senior notes:
All outstanding Westlake 4.625% senior notes due in 2021 aggregate principal amount to $624,793,000.
All outstanding Eagle Spinco 4.625% senior notes due in 2021 aggregate principal amount to $63, 207,000.
Westlake will fund the redemption by using cash on hand, net proceeds from $500 million in 2047 senior notes, and the remarketing of $250 million in Louisiana Local Government Environmental Facilities and Community Development Authority Revenue Refunding bonds. The redemption of the notes is expected to bring WLK's interest expense down going forward. At the end of 3Q17, WLK had $3.3 billion of long-term debt.
Article continues below advertisement
Westlake stock price update
Westlake Chemical stock rose 3.9% and closed at $104.65 for the week ended December 22, 2017. WLK traded 22.9% above the 100-day moving average price of $85.14, indicating an upward trend in the stock. WLK underperformed the PowerShares DWA Basic Materials Momentum Portfolio (PYZ), which rose 2.7% for the same period. On a year-to-date basis, the stock has risen 86.9%, but investors should be careful, as WLK's 14-day relative strength index is at 78, which indicates that the stock has moved into an overbought situation temporarily. However, analysts are expecting further upside in the stock and have provided a target price of $105.68, implying a return potential of 1.0% over the closing price as of December 22, 2017.
PYZ fund also provides exposure to stocks like LyondellBasell (LYB), FMC (FMC), and Chemours (CC), which have weights of 5.1%, 5.1%, and 4.9%, respectively, as of December 22, 2017.