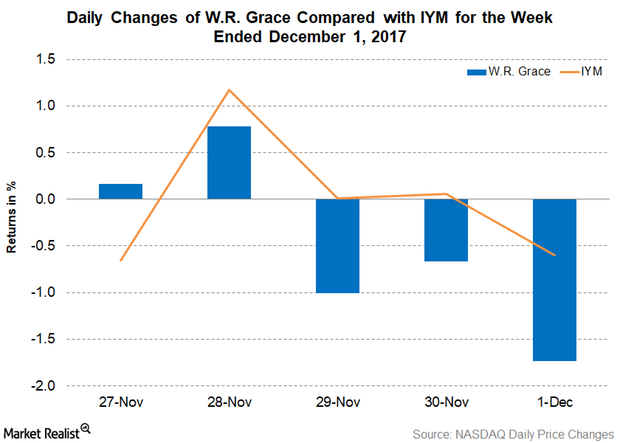 W.R. Grace Signs a Spree of New Contracts
W.R Grace's new business wins
On November 27 and 28, 2017, W.R. Grace (GRA) signed a spree of new contracts for its Unipol license. Below are the details of new contracts.
GRA signed a deal with Kuwait Integrated Petroleum Industries (KIPIC), a subsidiary of Kuwait Petroleum, for its Al-Zour refinery. The new facility is expected to begin its operations by 2023. This facility will have the capacity to produce 940 kilotons of PP (polypropylene) per year.
GRA signed a deal with Sinochem Quanzhou Petrochemical for its expansion project at its Quanzhou facility in Fujian, China. The new facility will have the capacity of 350 kilotons per year. The operations are expected to be completed by 2020.
The final contract was signed with Oriental Energy New Material for its expansion at Ningbo facility in China. This facility will have two 400-kiloton capacity lines. The facility is expected to be operational by 2020.
As a result of these new deal, the total Unipol capacity in China has exceeded 8,000 kilotons per year. However, GRA did not disclose the financial aspects of these contracts.
Article continues below advertisement
Article continues below advertisement
Stock update
Despite the positive news, GRA stock fell 2.5% last week and closed at $72.04. However, GRA managed to trade 0.4% above its 100-day moving average price of $71.72.
On a YTD (year-to-date) basis, GRA has gained 6.5%. Analysts appear to be bullish on the stock and recommend a target price of $84.40 over the next 12-months, indicating a return potential of 17.2% from its closing price as of December 1, 2017. GRA's RSI (relative strength index) level of 43 indicates that the stock is neither overbought nor oversold.
Notably, investors looking to invest in GRA indirectly can invest in the iShares US Basic Materials ETF (IYM), which has 0.75% of its total portfolio in GRA. IYM's other holdings include Monsanto (MON), Praxair (PX), and Air Products and Chemicals (APD), which had weights of 7.7%, 6.4%, and 5.2%, respectively, as of December 1, 2017.