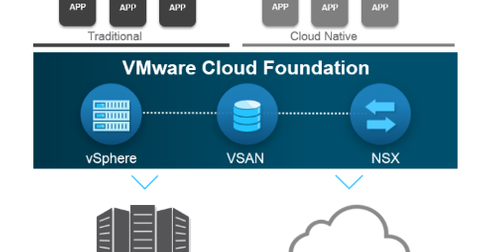 Could VeloCloud Strengthen VMware NSX?
By Anne Shields

Updated
VeloCloud will enable VMware to put NSX everywhere
Earlier in the series, we looked at VMware's (VMW) acquisition of VeloCloud. VeloCloud's cloud SD-WAN (software-defined wide-area network) offering is now integrated into VMware NSX and rebranded VeloCloud by VMware. NSX, a part of VMware's SDDC (software-defined data center) architecture, is a virtual networking and security software platform.
VMware has integrated its network virtualization offering with VeloCloud's SD-WAN to provide customers with an end-to-end network solution, starting from the core and the cloud to the edge of the network.
Upon the acquisition, Pat Gelsinger, VMware CEO (chief executive officer), said that VeloCloud's SD-WAN would help VMware NSX achieve "automated, secure, and infrastructure-independent networking to the WAN." VMware's aspiration to push NSX wherever possible is evident from this statement by Gelsinger: "Once the acquisition closes, VeloCloud will enable VMware to build on the success of its industry-leading network virtualization platform, VMware NSX….What VeloCloud offers is really NSX everywhere. It allows us to stretch it to the branch into the WAN and this is a powerful additional element of the market."

VMware's increased focus on new offerings is bearing fruit
VMware NSX, vSAN (virtual storage area network), and vCenter Server form VMware's Cloud Foundation. VMware Cloud Foundation, which is part of VMware's Cross-Cloud Architecture, is an integrated SDDC (software-defined data center) platform that combines network, computing, and virtualization and storage technologies. It's also available as an as-a-service offering.
In fiscal 3Q18, NSX continued to see increased traction with its license bookings growing 11%. VMware's vSAN license bookings rose 150% on a year-over-year basis, just like fiscal 2Q18. VMware intends to diversify from vSphere and related management offerings. Its new offerings—NSX and vSAN—continue to do well, which means the company's new strategy could be working.