Sherwin-Williams' Debt at All Time High: Should Investors Worry?
At the end of 3Q17, Sherwin-Williams (SHW) debt was at an all-time high of $11.0 billion.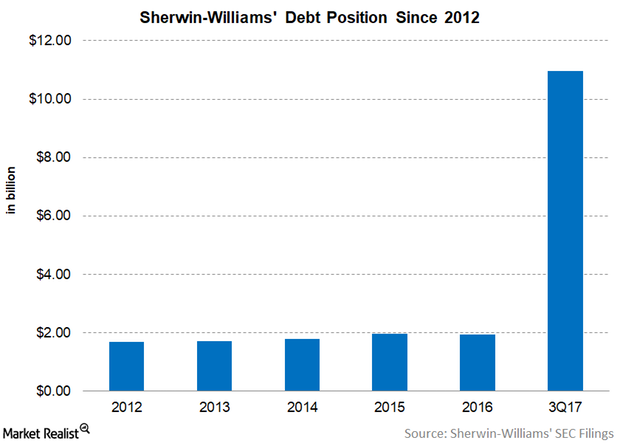 Sherwin-Williams' debt
At the end of 3Q17, Sherwin-Williams' (SHW) debt was at an all-time high of $11.0 billion, which includes short-term debt, current portion of long-term debt, and long-term debt. SHW's debt increased gradually from 2012 to 2016. However, in 2017, SHW debt rose more than 5x, primarily due to the issuance of new debt to finance its Valspar acquisition.
Article continues below advertisement
Article continues below advertisement
Impact on debt-to-equity ratio
The debt-to-equity ratio is an indication of the extent of debt used by a company to grow its assets. A higher debt-to-equity ratio indicates that a company has used extensive borrowing to finance its growth. However, the cost of debt can hamper its earnings due to high interest expenses.
SHW's current debt-to-equity ratio stands at 4.0x as a result of increased borrowings. The company's ratio is way above the industry average of 0.92x. SHW's debt-to-equity has increased approximately 3x. SHW's peers PPG Industries (PPG), Axalta (AXTA), and RPM International (RPM) had debt-to-equity ratios of 0.80x, 3.0x, and 1.36x, respectively. At present, SHW has the highest debt-to-equity ratio among its peers.
Free cash flows
At the end of the first nine months of 2017, SHW had generated free cash flow of $1.1 billion. SHW has spent approximately 21.5% in the form of cash dividends so far. With nearly 79% of the free cash flows available, SHW should prioritize its free cash flows to repay the debt. SHW has also said in one of its conferences that it aims to reduce its debt-to-leverage ratio to below 3.0x by fiscal 2018 as compared to 4.46x at present. This could be an indication that going forward, SHW's debt could be in a downward trend.
Investors can indirectly hold SHW by investing in the Materials Select Sector SPDR Fund (XLB), which invests 5.1% of its portfolio in Sherwin-Williams as of December 22, 2017.