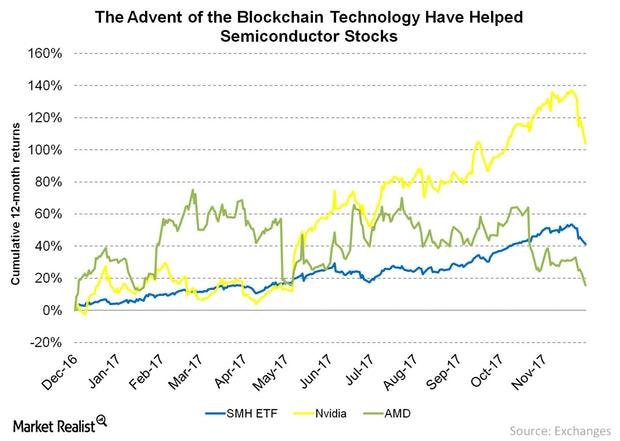 Semiconductor Stocks Have Soared on Blockchain Technology
Article continues below advertisement
Miners and Mining
Blockchains are created, run, and stored on computers, with record creation and verification, two of the most computationally intensive processes. The verification process is called mining which is administered by verifiers or miners. Verification and verifiers are central to blockchain technology.
The process of mining organizes transactions into a chain of individual blocks by solving computationally intensive mathematical puzzles. Participants in the verification process receive rewards (Bitcoin or other cryptocurrencies) when they solve these puzzles. While anyone with the appropriate hardware and access to the Internet can participate, successful miners have access to massive computer processing power.
The most important hardware components for mining are memory chips, graphics cards, and processors – all of which use vast quantities of semiconductors. For context, NVIDIA's GV100 graphics processing unit (GPU) includes 21.1 billion transistors – one of the simplest semiconductor devices.
Miners have been known to rent entire jumbo jets to ship graphics processors from semiconductor manufacturers to meet their mining needs. It has been reported, that demand is such that at least two semiconductor manufacturers (NVIDIA and Advanced Micro Devices) are considering producing graphics cards dedicated to cryptocurrency mining.
Market Realist
As mentioned in the previous part of the series, blockchain technology needs a lot of processing power. Thus, the technology is driving demand for semiconductor stocks (SMH). The graph above shows the performances of the VanEck Vectors Semiconductors ETF (SMH) as well as chipmakers NVIDIA (NVDA) and Advanced Micro Devices (AMD).
Despite recent declines, the SMH ETF has risen over 41% in the last 12 months. Meanwhile, NVIDIA has risen a whopping 186.7% in the same period, while AMD has returned 15.5% in that period.
While the bitcoin rally has been phenomenal, it can be volatile. Investors can cash in on the bitcoin ride through the SMH ETF, which invests in semiconductor stocks.