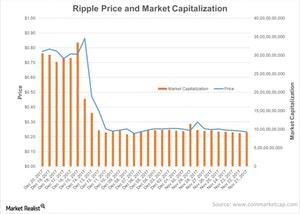 Ripple Crosses $1 for the First Time on December 21
Ripple crosses $1
For the first time in history, the price of ripple has surpassed $1. Ripple is the fourth largest cryptocurrency after bitcoin cash (or BCC). It has a market capitalization of approximately $43 billion.
Analysts are attributing its success primarily to the strong price performance of the crypto and active testing in the US (QQQ) (COMP-Index), Japanese (FXY), and South Korean (KOSPI) markets. Banks in Japan and South Korea began testing ripple's blockchain-based technologies on December 15.
Article continues below advertisement
South Korea and ripple
Ripple is trading at a huge premium of close to 18% in South Korea with an average trading price of $1.3. Ripple investors are also expecting ripple's chief cryptographer, David Schwartz, to reveal the name of ripple's new partner. It could be partnering with a huge institution.
South Korea's most popular chat app, Kakao Talk, has integrated with Upbit, the cryptocurrency exchange. Over 120 cryptocurrencies are listed on Upbit due to its partnership with the US-based cryptocurrency exchange Bittrex.
As the Korean government is watching the virtual currency trading market, the industry is trying to eliminate its negative image through self regulation. However, Upbit hasn't joined the association and is not subject to self regulation. Ripple's price could be substantially impacted by the atmosphere in South Korea, as the country is a leading demand source.