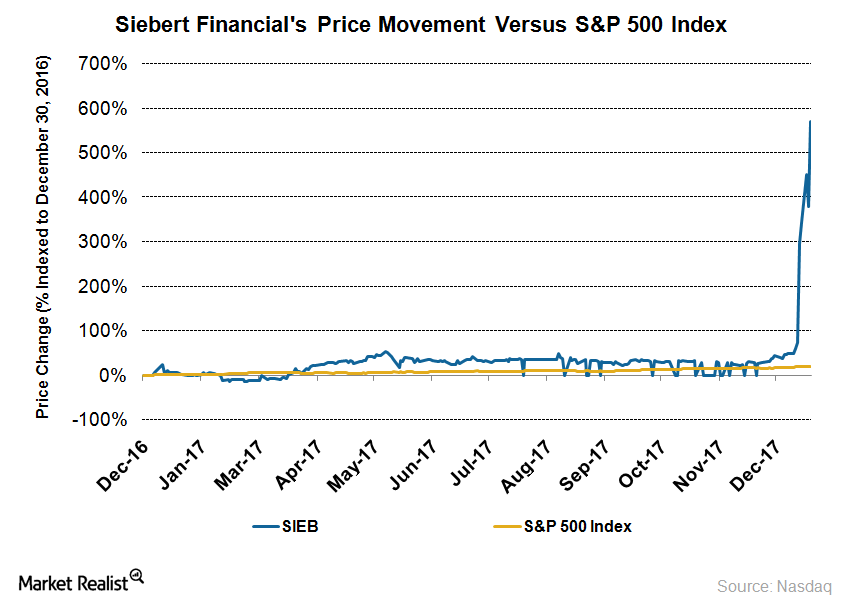 Overstock Invests $1 Million in Kennedy Cabot
tZERO buys 1% stake Overstock (OSTK) has invested $1 million in Kennedy Cabot, which will give it a 1% stake in the brokerage service company. Overstock made the investment through its subsidiary, tZERO. Kennedy Cabot is the parent organization of Siebert Financial (SIEB). It holds a ~90% stake in Siebert. The news offered a massive boost to […]
tZERO buys 1% stake
Overstock (OSTK) has invested $1 million in Kennedy Cabot, which will give it a 1% stake in the brokerage service company. Overstock made the investment through its subsidiary, tZERO.
Kennedy Cabot is the parent organization of Siebert Financial (SIEB). It holds a ~90% stake in Siebert.
The news offered a massive boost to Siebert Financial stock, which rose ~40% following the announcement on December 20, 2017. As of December 20, 2017, Siebert Financial stock had risen 571.1% this year, whereas the S&P 500 (SPY) had risen 19.7%.
Article continues below advertisement
Article continues below advertisement
tZERO's collaboration with Siebert
A few days back, tZERO partnered with Siebert Financial to offer discounted online trading services. Under the agreement, an investor who logs in through the Muriel Siebert portal on Overstock's website can avail online trading services for US equities for $2.99 per trade. The new service is expected to be available in 1Q18.
Furthermore, Overstock is planning to expand its Club O loyalty membership program, in which an investor can avail trading facilities for as little as $1.99 per trade. In the near future, Overstock is also planning to add more financial products and services, including blockchain trading, free IRA (individual retirement account) products, crypto products, and robo advisory services.
However, Overstock needs to watch for intense price competition. As customers select brokers based on their commission rates, there is an ongoing price war among brokers to lure new customers. The competition has intensified with the advent of free trading apps such as Robinhood.
Many major brokerage companies, from Charles Schwab (SCHW) to E-trade Financial (ETFC), have been compelled to make drastic cuts to their commission rates. In the next part of this series, we'll discuss why Overstock is looking to sell its retail division.