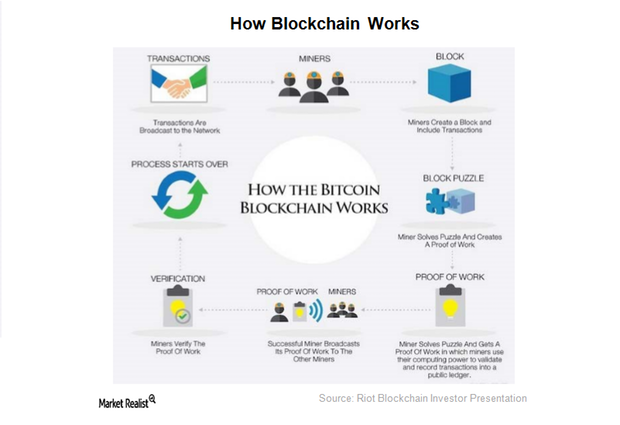 Riot Blockchain and Its New Business Model
A look at Riot Blockchain
In October 2017, BiOptix Diagnostics, a diagnostics equipment company, changed its name to Riot Blockchain (RIOT).
In September 2016, the company acquired BDI, a private company, through its subsidiary Venaxis for ~$2.5 million. BDI had developed an enhanced surface plasmon resonance platform for detecting molecular interactions. In March 2017, BiOptix decided to discontinue the operations of BDI.
Then in October, BiOptix not only changed its name but also its direction. From diagnostic equipment, the company pivoted to investing in companies that have exposure to digital currencies and the underlying blockchain technology. The company's strategy is to make investments and own controlling positions in these companies in order to have exposure to this volatile sector. Riot Blockchain is seeking to have first mover advantage in blockchain technology with a focus on Bitcoin and Ethereum blockchains. The company's investment strategy is to spot projects that help decentralize markets and combine them with real-world applications that offer sizable market opportunities.
Article continues below advertisement
Article continues below advertisement
Bitcoin overview
Bitcoin was created in 2008 by a person or group of persons who used the alias Satoshi Nakamoto. The real identity of the creator is unknown.
Bitcoin is the first decentralized and most established cryptocurrency in the space. Unlike traditional central banking, it has no central repository or any single administrator authority. These are peer-to-peer transactions with demand and supply forces deciding the prices. These transactions are verified by nodes in the network and then recorded on the ledger or the blockchain.
Listed companies are gradually announcing a foray into the cryptocurrency space. Digital Power (DPW) has announced a crypto initiative through its Coolisys Technologies. Marathon Patent Group (MARA) announced that it will buy Global Bit Ventures, a cryptocurrencies miner. Square (SQ), a mobile payments company, has launched purchases through bitcoin on its app (application).
In the next part of this series, we'll take a look at blockchain technology and the Ethereum platform.