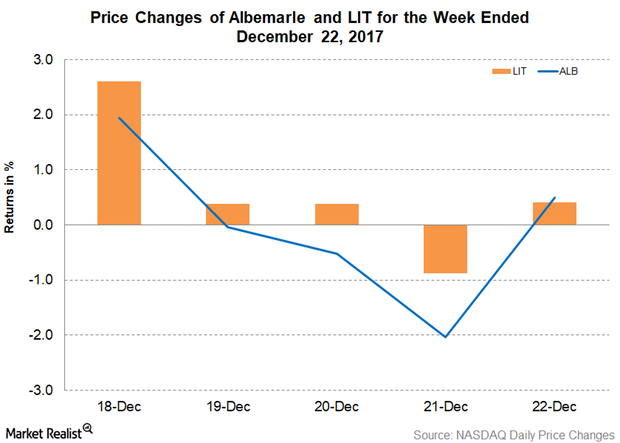 Albemarle Launches New Granite Technology
Albemarle launches new technology
On December 19, 2017, Albemarle (ALB) announced the launch of its new Granite technology, which will expand its fluid catalytic cracking portfolio. This technology aims to help refiners improve their profitability due to improved coke selectivity and higher zeolite stability.
Dave Clary, Albemarle's vice president of the FCC division, said, "Albemarle is proud to offer new technologies that give our customers operational flexibility and improved performance. We are committed to developing superior catalyst solutions which our customers can use to meet their toughest challenges."
Article continues below advertisement
Article continues below advertisement
Stock update
Albemarle stock declined by 0.2% and closed at $129.29 for the week ended December 17, 2017. The Lithium ETF (LIT), which holds 6.0% of its portfolio in Albemarle, outperformed ALB with gains of 2.9% for the week. The decline in ALB's stock price has reversed the 100-day moving average trend. ALB now trades 0.40% below the 100-day moving average price of $129.83. ALB stock has been on a decline after reaching a 52-week high of $144.99.
On a year-to-date basis, ALB has gained 50.2%. However, analysts have given Albemarle a target price of $144.21, which implies a return potential of 11.5% over the latest closing price of $129.29. ALB's 14-day relative strength index of 43 indicates that the stock is neither overbought nor oversold.
LIT also provides exposure to stocks like FMC (FMC), Tesla (TSLA), and Johnson Controls (JCI), which have weights of 24.6%, 3.5%, and 2.1%, respectively, as of December 24, 2017.