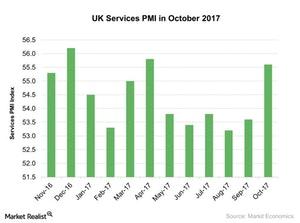 The UK's Services PMI Rose Strongly: How Could Its Impact the Economy?
UK's services PMI in October
According to a report by Markit Economics, the final UK services PMI (purchasing managers' index) rose strongly in October 2017. It stood at 55.6 in October 2017 compared to 53.6 in September 2017.
The PMI figure beat market expectations of 53.3, and it was the strongest expansion in services activity since April 2017.
The solid improvement in the services PMI in October was mostly due to the stronger improvement in production volume and export orders in the UK in that month. New work orders rose at a higher pace in that month, and it recovered strongly from its 13-month low in September 2017.
Production output also improved in September, and job growth rose in October 2017. However, input cost inflation fell to a 13-month low.
Article continues below advertisement
UK's economic condition
There is a wide expectation among many market participants that the UK's exit from the European Union (VGK) (IEV) could hamper the UK's economic growth in the near future.
However, the improvement in the UK's economic activity, manufacturing PMI, and services PMI is contradicting this concern. Although we could see some impact on the economy in the near future, the economy is currently recovering gradually from the Brexit shock.
Performance of index and ETF
The iShares MSCI United Kingdom ETF (EWU) rose nearly 0.6% in October 2017. The UK's FTSE 100 index rose 0.8% in October 2017.
In the next part of this series, we'll analyze the performance of Japan's services PMI in October 2017.