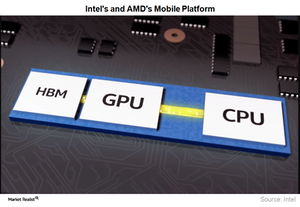 All You Need to Know about the Intel-AMD GPU Collaboration
Why is Intel-AMD collaboration a surprise?
Intel (INTC) and Advanced Micro Devices (AMD) have been rivals for a long time, competing in the PC (personal computer) and server processor markets. In fact, Intel and AMD are the only two players in these two markets. Recently, Intel launched its eighth-generation Core processor family to compete with AMD's Ryzen processors.
In the past, the two companies have collaborated in writing industry standards or in the activities of various tech organizations. But this would be the first time since 1980 that the two have entered into a strategic business collaboration to develop products.
Article continues below advertisement
What's the Intel-AMD partnership about?
Intel approached AMD to develop an all-in-one mobile PC platform for thin laptops. But Intel's integrated GPU (graphics processing unit) doesn't deliver the graphics performance required to play games, and so PC OEMs (original equipment manufacturers) purchase AMD's or NVIDIA's (NVDA) discrete GPUs separately to get high graphics performance on laptops.
Intel wants to integrate this discrete GPU on its motherboard, thereby enabling PC OEMs to develop thinner and lighter laptops without compromising on performance and power efficiency. PC OEMs could also use the extra space created from the discrete GPU integration to add more functions, more battery, or cooling technologies.
Integrating a discrete GPU on the motherboard would make the motherboard expensive and bulky. The motherboard would also consume higher power and require additional cooling. Hence, Intel has approached AMD to develop a single optimized package for thin laptops, notebooks, 2-in-1s, and miniature desktops.
Product outcome from AMD-Intel partnership
Intel's and AMD's optimized package would consist of Intel's eighth-generation Core H processor, AMD's discrete Radeon GPU, and a dedicated HBM2 (high bandwidth memory) graphics memory. All three components would be connected through Intel's EMIB (embedded multi-die interconnect bridge).
According to a leaked roadmap published on PC Perspective, Intel plans to launch three Hades Canyon SKUs (stock keeping units) with power consumption of 46 W (watts), 66 W, and 96 W. These new chip modules are expected to be made available to PC OEMs in calendar 1Q18.
The laptops built using these chips would be thin and light and powerful enough to play intensive games. These Intel chips would only be targeted at serious gamers, and they wouldn't likely compete with AMD's Ryzen Mobile chips launched in October 2017.
Now let's look at the technical specifications of Intel's new chip.