How the Marvel Acquisition Is Working out for Disney
Marvel acquisition helping film business The Walt Disney Company's (DIS) acquisition of Marvel has worked out well for Disney, earning money for its Studio Entertainment segment. The latest flick, Thor: Ragnarok, has already collected more than $600 million worldwide. Blockbuster movie releases and other license fees have driven the company's business and created a strong brand. The […]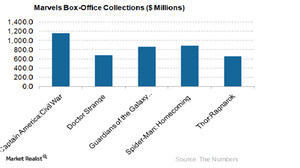 Marvel acquisition helping film business
The Walt Disney Company's (DIS) acquisition of Marvel has worked out well for Disney, earning money for its Studio Entertainment segment. The latest flick, Thor: Ragnarok, has already collected more than $600 million worldwide. Blockbuster movie releases and other license fees have driven the company's business and created a strong brand.
The graph above shows the worldwide box-office performance of the last five Marvel movies. Disney bought Marvel for $4 billion in 2010, giving it access to nearly 5,000 comic characters, including Iron-Man, the X-Men, and Spider-Man. The investment, made seven years back, has generated a massive return for the company. Since the acquisition, the Marvel Cinematic Universe has garnered nearly $16 billion at the box office globally.
Article continues below advertisement
Article continues below advertisement
Marvel acquisition helping other segments
The success of the company's film business has spread to other business segments as well. The Consumer Products and Interactive Media and Parks & Resorts segments have also been driven by the popularity of the Marvel characters.
These Marvel characters are also quite popular on small screens. TV shows based on Marvel characters, such as Daredevil and Marvel's Defenders, are extremely popular on Netflix (NFLX). The latest show, The Gifted, on 21st Century Fox (FOXA), is also gaining popularity among TV audiences. The company has a strong movie line-up for next year, with Black Panther, Ant-Man and the Wasp, and Avengers: Infinity War.