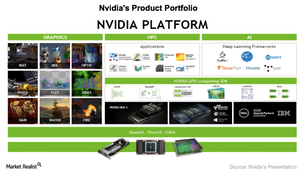 A Look at Opportunities and Challenges in NVIDIA's GPU Business
NVIDIA's GPU business
NVIDIA (NVDA) has become NVIDIA because of its advanced GeForce GPUs (graphics processing units), which are superior in the PC (personal computer) gaming market in terms of performance. Rival Advanced Micro Devices (AMD) is one year behind NVIDIA in terms of technology. Thus, AMD competes mostly in terms of price-to-performance ratio, which means delivering a similar performance at lower prices.
NVIDIA is spreading its wings beyond gaming and prioritizing the high-margin HPC (high-performance computing) and professional visualization segments, which use Tesla and Quadro platforms, respectively.
Article continues below advertisement
Server suppliers prioritize GeForce over Tesla and Quadro
However, NVIDIA's server suppliers seem to have a different priority. Before we look into this matter, it is important to note that NVIDIA supplies GPUs to its suppliers, who in turn make some changes and sell it in the consumer market.
Server suppliers have been favoring GeForce 1080 Ti gaming cards priced at $1,200 over the Quadro cards priced at around $7,000 and Tesla cards priced at around $160,000. Quadro and Tesla cards deliver unmatched performance in their respective fields, but consumers who need this level of high computing are discouraged by the price tag. For a price of a single Quadro, a consumer can buy a stack of Geforce 1080 Tis and get a similar performance.
This raises the question as to what is in it for suppliers. NVIDIA's suppliers operate on wafer-thin margins, and their main source of profit is higher sales volumes. By prioritizing GeForce, suppliers can increase their sales volumes.
Impact on NVIDIA
However, this would have a negative impact on NVIDIA's margins. In the platform model, all platforms use the same GPU architecture. The company recovers its expense in developing this GPU architecture by first launching it in its high-margin Tesla platform and later on the GeForce platform. For instance, it launched its first Volta GPU on the Tesla platform in fiscal 3Q18 and plans to launch Volta-based GeForce cards in early fiscal 2019.
If customers supplement Tesla and Quadro with GeForce, NVIDIA's profits would take a hit. Moreover, it may lose some of its professional and institutional customers to AMD, which offers Radeon Pro GPUs.
A report from DigiTimes stated that NVIDIA is forcing server suppliers to only sell Quadro and Tesla GPUs to server and HPC customers. This close monitoring may work for large server suppliers, but it may not work for all. Customers could find a way to get their hands on GeForce cards.
While NVIDIA is discouraging such practices, it's encouraging GPU sales to cryptocurrency miners. We'll look into this in the next part.