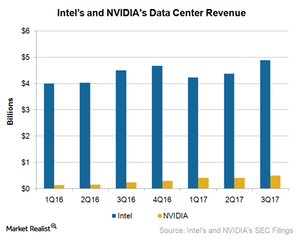 Intel's Data Center Group Prepares to Compete with NVIDIA in the AI Space
By Puja Tayal

Nov. 29 2017, Updated 7:31 a.m. ET
Intel's Data Center Group
As Intel (INTC) transitions from a PC (personal computer) company to a data-centric company, its DCG (Data Center Group) will likely play a crucial role. Intel participates in the data center market by offering its server processors.
Intel expanded its reach beyond server CPUs (central processing units) to include a complete rack scale consisting of networking products like Ethernet and Fabric, Silicon Photonics, 3D XPoint memory, and accelerators for AI (artificial intelligence) workloads.
Intel dominates the server CPU market with a ~90% market share. Advanced Micro Devices (AMD) and others are also the participants of the server CPU market but don't currently pose serious competition to Intel.
With the emergence of AI, NVIDIA (NVDA) has become a serious competition to Intel in just one year. Google (GOOG) also launched its AI chips, but they don't pose a competitive threat to Intel because Google would likely use these chips for internal use.
Article continues below advertisement
Intel's Data Center Group earnings
Intel's DCG revenues rose 7.4% YoY (year-over-year) to $4.88 billion in fiscal 3Q17, whereas NVIDIA's data center revenues rose 108% YoY to $501 million. While NVIDIA's data center business is just a drop in the ocean in front of Intel's DCG revenue, the former is growing fast.
In dollar terms, DCG revenues rose $336 million on a YoY basis, whereas NVIDIA's data center revenues rose $261 million in calendar 3Q17. The two companies' dollar growth is pretty close, which indicates how NVIDIA's GPUs (graphics processing units) are threatening Intel's DCG business. (As AMD doesn't report its data center earnings separately, we've excluded it from the above comparison.)
Intel versus NVIDIA
NVIDIA participates in the data center market with its Tesla GPUs and DGX supercomputers. These GPUs alone are bringing NVIDIA's data center revenue growth closer to that of Intel.
To compete with NVIDIA's Tesla GPUs, Intel has developed the following AI chips:
Altera's FPGAs (field programmable gate arrays)
the Xeon Phi processor
the Nervana NNP (Neural Network Processor)
its traditional Core processor
But so far, neither AI platform has achieved the success of NVIDIA's Tesla GPU.
Meanwhile, Intel is making trial-and-error efforts with all types of AI chips, and this has seen Intel venture into the discrete GPU market with the appointment of AMD's GPU talent, Raja Koduri. Koduri should help Intel develop discrete GPUs for various applications such as AI, edge computing, and self-driving cars.