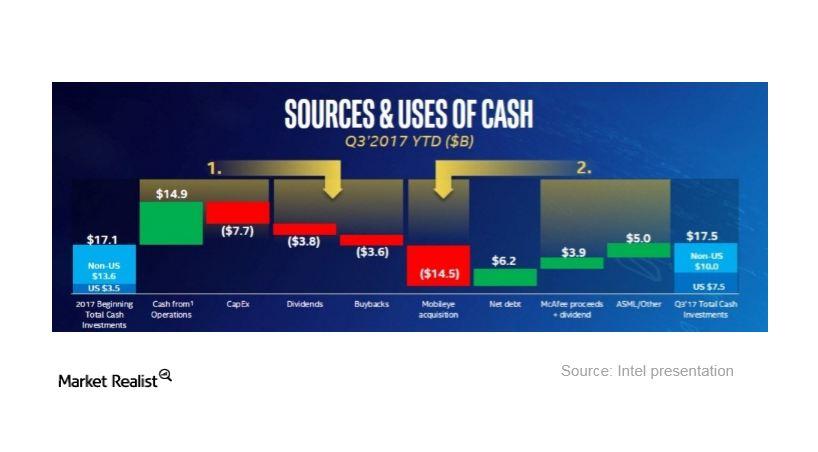 How Intel Is Using Its Cash
By Ruchi Gupta

Dec. 4 2020, Updated 10:53 a.m. ET
Intel generated $1.3 billion more cash
Intel (INTC) has generated $14.9 billion in cash from operations so far this year as of the end of 3Q17. That implies $1.3 billion more cash from operations than in a similar period last year.
In 3Q17, the latest reported quarter, Intel generated $6.3 billion in cash from operations, and the company returned a sizeable portion of the cash to its shareholders. It distributed $1.3 billion in dividends and used $1.1 billion to buy back some shares from its shareholders. As such, about 38.1% of the cash from operations generated in 3Q17 got its way back into the pockets of Intel shareholders.
Article continues below advertisement
$1.3 billion spent on repurchases
In 2Q17, Intel generated $4.7 billion in cash from operations. The company distributed dividends totaling $1.3 billion and repurchased shares worth $1.3 billion during the quarter. In 1Q17, Intel generated $3.9 billion in cash from operations. In that quarter, the company returned a combined $2.4 billion to shareholders in the form of dividends and repurchases.
Intel's board approved a fresh repurchase budget of $10 billion, which saw the company exit the quarter with $15 billion under its repurchase program. Since Intel spent about $2.4 billion on repurchases in 2Q17 and 3Q17 combined, about $12.6 billion still remains in its repurchase budget.
Funding product development
In addition to using its cash to reward shareholders, Intel also continues to invest in product development. The company invested $3.2 billion in R&D (research and development) in 3Q17. Intel has maintained its R&D budget above $3.0 billion in at least each of the past five quarters.
Intel's R&D machine chews significantly more cash than many of its semiconductor peers. Qualcomm (QCOM), Micron Technology (MU), Advanced Micro Devices (AMD), and Microchip Technology (MCHP) invested $1.4 billion, $447 million, $312 million, and $133.6 million in R&D, respectively, in their latest quarters.