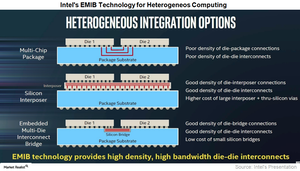 Why Is EMIB Technology so Important for Intel?
EMIB technology at the heart of Intel's GPU 
At the heart of Intel's new mobile PC (personal computer) MCM is the combination of its EMIB (embedded multi-die interconnect bridge) technology with a new power-sharing framework. Intel's MCM mounts its H-Core processors, AMD's GPU, and HMB2 (high-bandwidth memory) on a small enclosed circuit board and interconnects these three chips through its EMIB, a dedicated highway that transmits data between the three components.
As EMIB supports high-speed communication between different architecture mounted on a single chip, it enables heterogeneous architecture. This ensures the delivery of high performance without increasing the height of the system. AMD's GPU would be the first product to use EMIB technology.
Article continues below advertisement
Intel's Power-Sharing Framework
Another key technology Intel is using in its mobile platform is its new Power-Sharing Framework, which helps manage power and temperature between the three components, thereby delivering better performance. Intel would also provide software drivers and interfaces to allow OEMs (original equipment drivers) to adjust the power-sharing ratio between the CPU and GPU, enabling them to develop systems for specific workloads and applications such as gaming.
While EMIB would enable Intel to deliver higher performance in a small-form factor, its Power-Sharing Framework would likely ensure that the chip doesn't consume too much power.
Although AMD's discrete GPUs are not competitive with NVIDIA's (NVDA) GPUs, a combination of Intel's CPU (central processing unit) and AMD's GPU could discourage gamers to buy an NVIDIA GPU separately.
Gaming laptops are just the start of Intel's venture into discrete graphics. Intel has appointed AMD's Radeon Technology Group head, Raja Koduri, to spearhead its new Core and Visual Computing Group dedicated to high-end GPUs.
In the next part, we'll discuss what value Raja Koduri could bring to Intel.