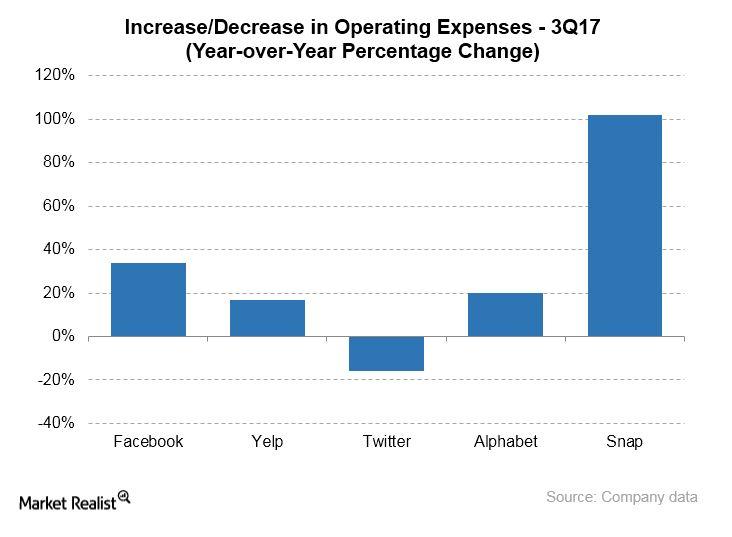 What Does It Cost to Run Twitter?
Twitter's expenses fell 16%
In 3Q17, Twitter (TWTR) reported $582.4 million in operating expenses, including its cost of revenues. However, it was less costly to run Twitter in 3Q17 compared with 3Q16, as its expenses decreased 16% YoY (year-over-year) in the latest quarter.
An examination of Twitter's cost trends reveals that the company's expenses have been declining in recent quarters. The 16.0% YoY decrease in expenses in 3Q17 followed an 11.0% YoY decrease in expenses in 2Q17 and a 10.0% decrease in expenses in 1Q17.
The recent decreases in expenses could be attributed to a restructuring that the company carried out in 2016. Twitter reduced its headcount, thus its payroll expenses, as a result of this restructuring initiative.
Article continues below advertisement
TAC for Twitter and Alphabet move in opposite directions
In 3Q17, Twitter's key cost items such as marketing and R&D (research and development) decreased by 23% YoY in each case. Twitter's TAC (traffic acquisition cost) also decreased 30% YoY in 3Q17. Its TAC was down 7.0% in 2Q17.
The TAC trend at Twitter contrasts sharply with what we've seen happening at Alphabet (GOOGL) in recent quarters. While Twitter's TAC decreased 30.0% YoY in 3Q17, Alphabet's TAC rose 31.0% YoY during the same period. Alphabet's TAC rose 27.5% YoY in 2Q17 at a time when Twitter's TAC decreased 7.0% YoY.
Snap recorded the sharpest increase in expenses