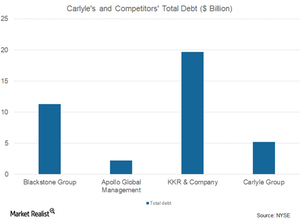 Carlyle Group's Corporate Private Equity Division
Marginal YoY decline
In 3Q17, the Carlyle Group's (CG) Corporate Private Equity division saw a marginal decline in distributable earnings, from $209 million in 3Q16 to $207 million in 3Q17. That was mostly due to a decline in the division's fee-related earnings (or FRE).
In 3Q17, the division's FRE was $3 million compared to $17 million in 3Q16. That substantial YoY (year-over-year) decline came on the back of a rise in compensation expenses.
The Carlyle Group has total debt of $5.2 billion. Let's look at the total debt for other alternative asset managers (XLF):
Blackstone Group (BX): $11.3 billion
Apollo Global Management (APO): $2.2 billion
KKR & Co. (KKR): $19.7 billion
Carlyle's Corporate Private Equity division reported net performance fees of $81 million in 3Q17. The division's carry fund portfolio rose 4%. However, the division saw a fall in investment income, from $15 million in 3Q16 to $11 million in 3Q17.
Article continues below advertisement
Deployments and realizations
The Corporate Private Equity division had deployments of $3.6 billion in 3Q17. On a last 12-month basis, the division saw deployments of $10.1 billion.
The division is expected to see a substantial rise in its fundraising costs in the next quarter, or 4Q17, with the anticipated first closes related to the division's funds. The division had realizations of $4 billion in 3Q17.