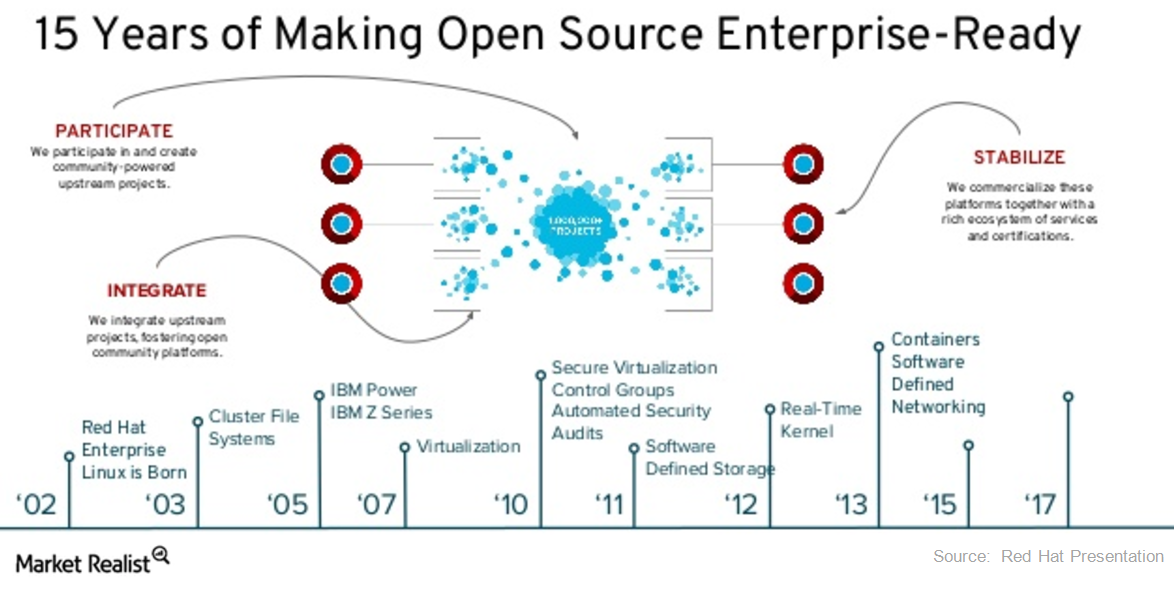 Why Red Hat Stock Rose More than 4% This Week
Red Hat stock has surged more than 55% in 2017 to date
Earlier in the series, we discussed Red Hat's (RHT) better-than-expected fiscal 2Q18 earnings. Red Hat's consistent double-digit revenue growth rate and strong quarterly results have provided upward momentum to its stock. In the last seven years, the company with few exceptions has met or exceeded analysts' expectations each quarter. As a result, Red Hat's stock after the announcement of fiscal 2Q18 earnings surged ~4.5%. In 2017 to date, it has surged ~55%.
Growth in its top line and bottom line, the increased adoption of hybrid cloud, and its partnership with Microsoft are tailwinds for Red Hat stock.
Article continues below advertisement
Fiscal 3Q18 and improved fiscal 2018 expectations
In the current quarter, 3Q18, Red Hat expects revenue and EPS to be $733.5 million and 70 cents per share, respectively. While its EPS guidance is in line with analyst estimates, Red Hat expects to exceed analysts' revenue estimates of $711 million.
Improvement in Red Hat's sales pipeline enabled it to raise its guidance for fiscal 2018 by $75 million. It now expects its revenue in the range of $2.88 billion and $2.90 billion. Fiscal 2018 revenue guidance also exceeded analysts' expectations of $711 million. Thus, better-than-expected fiscal 2Q18 earnings and improved guidance could continue to boost Red Hat stock.