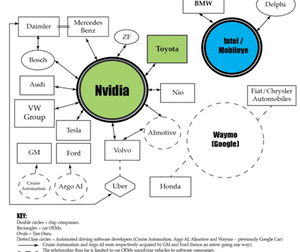 Why Intel's Partnership with Google's Waymo Matters
By Puja Tayal

Updated
Intel-Mobileye acquisition
Intel (INTC) has been moving aggressively in the automotive space through industry innovation, partnerships, and acquisitions—all targeted at delivering affordable cloud-to-car solutions.
In August 2017, Intel completed the acquisition of Mobileye for a very high premium, and it's wasting no time to put Mobileye's technology to work.
Article continues below advertisement
What is so special about the Intel-Waymo partnership?
Intel CEO (chief executive officer) Brian Krzanich, in a blog post dated September 18, 2017, announced Intel's partnership with Google's (GOOG) self-driving car company Waymo. Intel will likely supply technologies for sensor processing, general computing, and connectivity for Waymo's self-driving Chrysler Pacifica hybrid minivans. Intel will also likely collaborate with Waymo on level-4 and level-5 autonomous cars.
The Waymo partnership likely increases Intel's chances of gaining a significant market share in the autonomous car market because Waymo is at the forefront of the industry.
According to TechCrunch, Waymo has been using Intel's technology in some form or the other since 2009. Waymo stated that it's developing in-house technology for sensor fusion, autonomous decision-making, and pathfinding, and it could use Intel's chips for onboard computing capability. As Intel has been collaborating with Waymo for over eight years, the former is likely to have collected a huge amount of data.
Waymo could use Intel's self-driving platform instead of NVIDIA's (NVDA) GPUs (graphics processing units) or Google's own CPUs (central processing units).
Waymo partnership justifies Intel's latest acquisitions 
The Waymo partnership also justifies Intel's $15.3-billion price tag for Mobileye. Intel believes that Mobileye's EyeQ 5 VPU (vision processing unit) could become the industry-standard processor for autonomous cars.
Waymo's cars use expensive LiDAR sensors, which may not find their way in mainstream adoption. Intel's believes that Mobileye's camera-based EyeQ 5 could offer a more affordable alternative to LiDAR sensors for self-driving cars.
Intel could also offer Movidius's neural compute-capable Myriad X VPU, Nervana Systems artificial intelligence processors, and Wind River Systems security solutions for self-driving cars. The Waymo partnership could thus end up justifying the acquisition of the above three companies.