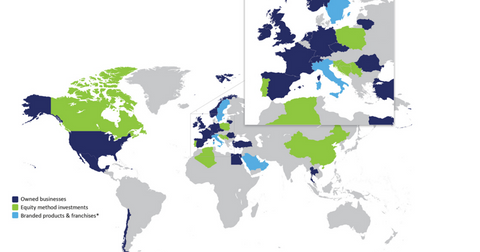 Walgreens versus CVS: Comparing International Presence
By Sonya Bells

Updated
Comparing the business models of WBA and CVS
This article focuses on the business models of Walgreens Boots Alliance (WBA) and CVS Health (CVS). While the two companies are the top two pharmacy chains in the US, their business models are far from a mirror image.
For instance, WBA has a strong international presence while CVS is mostly present in the US. Walgreens' business is more focused on pharmacy operations (both retail and wholesale), while CVS has a more diversified business model. Let's look at Walgreens' businesses next.
Article continues below advertisement
Walgreens has a presence in pharmaceutical retail and wholesale
Walgreens Boots Alliance was formed by the merger of Walgreens and Alliance Boots in December 2014. The merger immediately opened international doors for Walgreens. The company now has a presence in ~25 countries.
Its pharmacy-led retail business has operations in 11 countries. There are more than 8,100 Walgreens stores in the US and 4,500 stores overseas. Within the US, the company has a huge presence in California (633 stores), Florida (831), and Texas (713).
In addition, Walgreens is among the largest pharmaceutical wholesalers and distributors in Europe. Its pharmaceutical wholesaler and distribution network is present in 19 countries.
Walgreens' most significant revenue geography
The US is Walgreens' largest market and accounts for more than 70% of its total sales and operating income. Its international retail sales, which totaled $13.3 billion during fiscal 2016, accounted for 11% of its total sales. The wholesale business posted $20.2 billion in 2016, accounting for 17% of the 2016 top line.
ETF exposure
With a market capitalization of ~$78.3 billion, Walgreens Boots Alliance has a weight of 3.6% in the SPDR Consumer Staples Select Sector ETF (XLP).