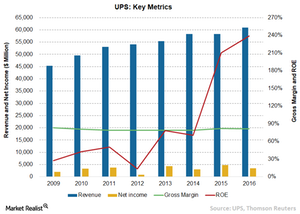 UPS Is Likely to Strengthen Its Wide Economic Moat
VanEck
United Parcel Services (UPS US) earns a "wide economic moat" rating from Morningstar from efficient scale, cost advantage, and the network effect. Morningstar writes, "The company crafted its moat by assembling an integrated international shipping network unlikely to be matched by any but a few global players. Extensive express, ground, and freight networks demand a huge quantity of trucks, trailers, terminals, sorting equipment, drop boxes, IT systems, and skilled labor. Replicating these assets in the absence of ample package flow would be costly, and few entities would endure the financial losses during the necessary density-building phase." UPS is the world's largest parcel delivery company and delivers on average 19 million packages per day around the world.
Article continues below advertisement
Article continues below advertisement
Market Realist
UPS has a strong business model
United Parcel Service (UPS) provides global supply chain management (XPO) solutions, delivering packages in over 220 countries and territories. The company has three main operating segments—US domestic package operations, international package operations, and supply chain and freight operations.
Strong business model
UPS has efficiently invested its financial resources in developing its infrastructure, resulting in solid returns. Over the years, UPS has generated strong profits with its net income rising from $496 million in 2007 to $3.4 billion in 2016. During the same period, it's ROE (return on equity) surged from 3.6% to 239%. Almost-seven-times-higher net income over the past decade shows that UPS has a very strong business model with an ability to scale down costs in the event of adverse scenarios. The company's average gross margin has remained above 80% since 2009, indicating solid control over costs and its ability to set prices depending on market dynamics.
UPS likely to strengthen its economic moat
The company has been retaining less of its earnings, which may be because it has developed a strong economic moat (PII), and it seems to be comfortable spending profits on growth. It's very likely that the company will continue to strengthen its economic moat (UTX)(BMY) due to its significant investments in infrastructure, which could ensure sustainable economic growth.