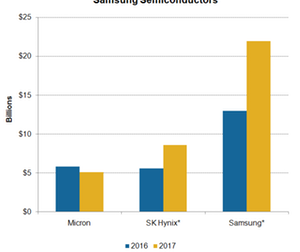 Understanding Micron's Capital Spending Plans for Fiscal 2018
By Puja Tayal

Updated
Memory chipmakers increase capex
During its fiscal 4Q17[1. fiscal 4Q17 ended August 31, 2017] earnings call, Micron's (MU) chief financial officer, Ernie Maddock, stated that the company's two cash flow priorities are to accelerate its cost competitiveness and to reduce leverage. The company's 2018 capital plan addresses both priorities.
Micron has increased its capex (capital expenditure) by 50% from $5.1 billion in fiscal 2017 to $7.5 billion in fiscal 2018. Maddock pointed that the fiscal 2017 capex excludes the capital spending by Inotera, which it acquired in 2017. If we add Inotera's capital spending, Micron's overall capex for fiscal 2017 was $6.0 billion. Its fiscal 2018 capex rose only 17% YoY (year-over-year). On the other hand, Micron's rivals Samsung (SSNLF) and SK Hynix have increased their capex.
Business Korea, citing Shinhan Investment analyst Choi Do-Yoen, reported that Samsung would invest ~$22.0 billion in its chip business in 2017. So far, it has spent $6.5 billion on its chip business. 
Samsung plans to spend another $10.8 billion in NAND (negative AND) and ~$7.2 billion in logic, including foundry. SK Hynix also increased its 2017 capex ~40% to $8.6 billion.
Article continues below advertisement
Micron's capital spending plans for fiscal 2018
In fiscal 2018, Micron plans to spend $3.0 billion each on DRAM (dynamic random access memory) and NAND, up from $2.0 billion spent on DRAM and $1.5 billion on NAND in 2017. The company would use the capex to upgrade the infrastructure required for the technology transitions.
Micron would spend the remaining $1.5 billion to spend on technology enablement, a slight increase of $100.0 million–$200.0 million. Most of this product enablement spending is related to the centers of excellence (or CoE) the company built for DRAM and NAND in Taiwan (EWT) and Singapore (EWS), as well as for back-end captive assembly operations.
Maddock stated that there is a time lag between capital spending and an increase in supply. Micron's 2017 supply growth resulted from its $5.8 billion capital spending in fiscal 2016. Similarly, the outcome of its 2018 capital spending would be realized by the end of fiscal 2018.
How analysts view Micron's capital spending
Increasing capital spending in the memory market raised concerns among investors that its would lead to supply growth and create a situation of oversupply. As a result of these concerns, Micron stock was not able to break its resistance of $32.00 in August 2017.
These concerns were allayed, and analysts and investors became optimistic after Maddock announced plans to bring Micron to a net cash positive state in fiscal 2018 despite its higher capex.
Next, we'll look at Micron's other cash flow priority of reducing leverage.