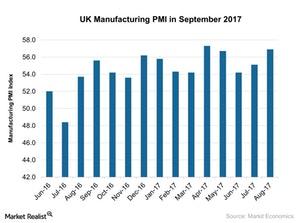 How Will Weaker UK Manufacturing Affect the Markets?
UK manufacturing PMI in September
The United Kingdom's manufacturing PMI stood at 55.9 in September 2017, compared to 56.9 in the previous month. The PMI figure was below the preliminary market expectation of 56.4.
The stronger UK manufacturing PMI in September was mainly due to the following factors.
Production output and volume improved at a weaker rate in September 2017.
New orders and export orders expanded at a slower pace.
Job creation in the manufacturing sector also weakened.
Input cost inflation rose at a stronger rate in September, mainly due to rising commodity prices. New investment plans, new product launches, and expansion in existing projects showed some marginal improvement. Although the manufacturing PMI remained weaker, the outlook for this sector remained positive.
Domestic demand is gradually rising. Consumer spending has also been gradually improving. The Eurozone economy (VGK)(IEV) is also in a better state than it had been. The improving economic scenario is good for the market.
Article continues below advertisement
Performance of index and ETF
The iShares MSCI United Kingdom ETF (EWU) rose nearly 2.9% in September 2017. The UK's FTSE 100 index fell marginally in September 2017.
In the next part of this series, we'll analyze the indicators investors should watch this week.