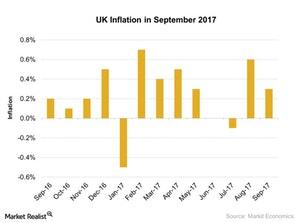 UK's Inflation Was at 0.3%: How Will It Affect the Economy?
UK's inflation in September
According to the report provided by the Office for National Statistics, on a monthly basis, the United Kingdom's inflation index stood at 0.3% in September 2017 as compared to a 0.6% improvement in August 2017. It didn't meet the market expectation of a 0.4% improvement.
On a yearly basis, inflation in the United Kingdom (EWU) was at 3% in September 2017 as compared to 2.9% in August 2017. It met the market's expectation of a 3% rise. It was the highest figure since April 2012. The improvement in the UK's inflation was mainly supported by the improvement in energy and food prices. However, other components of inflation such as transport and alcohol remained unchanged in September 2017.
The improvement in the inflation index is supporting the Bank of England's proposed interest rate tightening decision. However, the economy is expected to see a significant impact from the UK's exit from the European Union (VGK) (IEV).
Article continues below advertisement
Market impact
The iShares MSCI United Kingdom ETF (EWU), which tracks the performance of the United Kingdom, rose nearly 3% in September 2017. The improvement in the ETF indicates that investors remained positive about the performance of the economy during the month.
In the next part of this series, we'll analyze Eurozone inflation in September 2017.