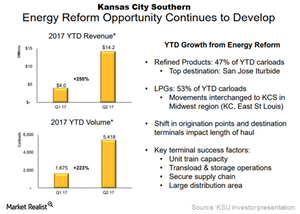 How Mexican Energy Reforms Are Benefiting Kansas City Southern
By Samuel Prince

Oct. 13 2017, Updated 6:40 a.m. ET
Mexican energy reforms
In this part of the series, we'll take a detailed look at the single largest factor that could drive Kansas City Southern's (KSU) revenues over the next few years. In 2013, the Mexican government initiated reforms in the energy sector aimed at ending the 75-year state monopoly for its oil and gas sector (SLB) (UNG). It's being viewed as a big effort to create a private oil and gas sector to push Mexican economic development.
Article continues below advertisement
Current state of Mexican energy industry
On August 16, 2017, the Financial Times reported, "Mexico's energy reforms have so far been lauded for the speed of their implementation—more than 40 upstream contracts signed in just four years—and the amount of pledged investments they have managed to attract—$35bn in associated investments from a December 2016 deepwater auction, despite the sustained downturn in oil prices."
In the second quarter 2017, KSU reported a 13.0% revenue growth in its Chemical (DOW) and Petroleum division. That was mainly due to bulky fuel oil shipments (HAL), refined products, and its LPG (liquefied petroleum gas) business driven by Mexican energy reforms.
How could KSU benefit?
Kansas City Southern witnessed a 255.0% surge in revenues and a 223.0% rise in carloads in its cross-border franchise and non-franchise movements. These movements were related to the energy reform reported under KSU's petroleum minor business division.
About 40.0% of its energy reform shipments through July 2017 has been liquid refined products. These products include unleaded fuel and diesel. Around 53.0% of the energy reform volumes have been moving LPG, which is primarily used in Mexico's residential areas.
Article continues below advertisement
Kansas City Southern believes manifest train service to small tanks will create a substantial cost hurdle to customers competing in the retail market for refined products. The company also foresees that destination facilities should be backed by storage and transload capabilities. That could result in marketing the facilities to multiple suppliers and distributors. A railroad could offer a competitive advantage over other modes of transportation.
Our analysis
The current market consumption of energy products could need the support of additional storage capacity plus better distribution models across Mexico. That could trigger higher freight volumes for Kansas City Southern going forward. In August 2017, KSU announced a 50-50 joint venture with Bulkmatic Transport. It's intended to facilitate and grow the liquid fuel exports from the United States to Mexico.
Next, we'll look at analysts' views on KSU ahead of its 3Q17 results.