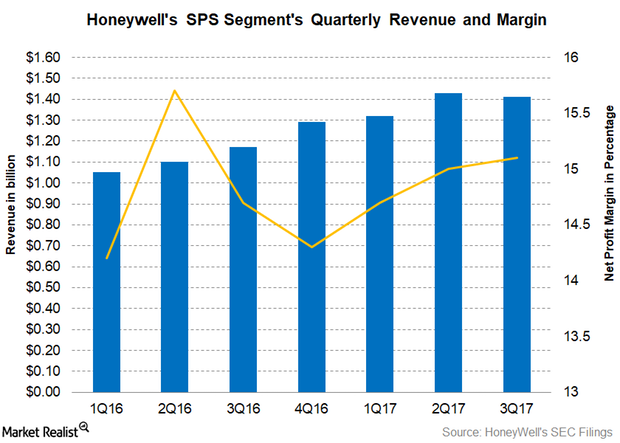 Honeywell's Safety and Productivity Solutions: Acquisition Wave
Safety and Productivity Solutions segment in 3Q17
Honeywell International's (HON) Safety and Productivity Solutions (or SPS) segment is a fairly new segment. It's HON's lowest revenue contributor, accounting for 14.0% of total revenue. In 3Q16, it accounted for 12.0% of total revenue. The segment reported revenue of ~$1.4 billion in 3Q17, a 20.5% rise on a year-over-year basis. In 2Q16, the segment reported revenue of ~$1.2 billion.
The segment's revenue growth was primarily due to the acquisition of Intelligrated. Intelligrated sales grew in the double digits during the quarter. Intelligrated was acquired in August 2016, and 3Q17 will be the last quarter it will be counted as acquisition revenue. In 4Q17, it will be considered organic growth. The increased demand for industrial safety products resulted in higher volumes, helping revenue growth. The segment also benefited from a favorable foreign exchange translation.
Article continues below advertisement
Article continues below advertisement
Net income and margin
Net income in 3Q17 for SPS was $213.0 million, an increase of 23.8% on a year-over-year basis. In 3Q16, the segment reported net income of $172.0 million. Its SG&A (selling, general, and administrative) expenses in 3Q17 were 19.0% of sales. In 3Q16, they were 20.2% of sales, implying a gain of 120 basis points. However, the segment's COGS (cost of goods sold) and acquisition expenses limited the net income increase. As a result, the segment reported a net income margin of 15.1% in 3Q17, implying a marginal increase of 40 basis points over 3Q16.
Investors looking for exposure to Honeywell indirectly can invest in the iShares Global Industrials (EXI), which has invested 2.5% of its portfolio in Honeywell. The other holdings of the fund include 3M (MMM), General Electric (GE), and Boeing (BA) with weights of 3.0%, 4.6%, and 3.4%, respectively, as of October 20, 2017.