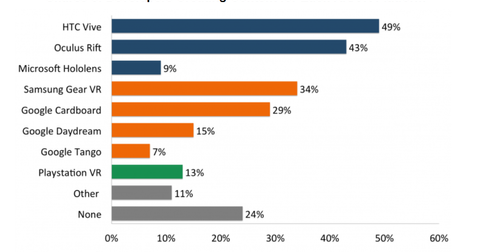 How AltspaceVR Could Benefit Microsoft HoloLens in VR
By Anne Shields

Updated
AltspaceVR to boost Microsoft's HoloLens?
In the first week of October, at the Windows Mixed Reality event, VentureBeat reported that Microsoft's (MSFT) aim would be to leverage social platforms and move into the VR (virtual reality) space. With its HoloLens headset, Microsoft has already pushed into the AR (augmented reality) space.
Through the Altspace acquisition, Microsoft's Windows 10 can now boast a self-VR social networking service and can now compete with Google (GOOG), Facebook (FB), and others in this rapidly growing space.
AltspaceVR is likely to continue to work on peer VR platforms like Samsung (SSNLF) Gear VR, Facebook (FB) Oculus Rift, and HTC Vive. According to Microsoft, "AltspaceVR will continue to work on PC and Mac in 2D mode, HTC Vive, Oculus Rift, Daydream by Google, and Samsung Gear VR."
Article continues below advertisement
AltspaceVR could boost developers' interest in HoloLens
As the above presentation shows, last year, only 9% of developers created content for Microsoft, while for HTC Vive and Oculus Rift, these figures were 49% and 43%, respectively. The acquisition of AltspaceVR has enabled Microsoft to dive into the social VR space because AltspaceVR provides support for all major platforms like Oculus Rift, Google Daydream, HTC Vive, and GearVR.
Developers have been eager to publish apps that offer new and varied VR experiences. Through AltspaceVR, Microsoft could be able to attract developers' interest as they are eager to get a piece of the growing social VR pie.