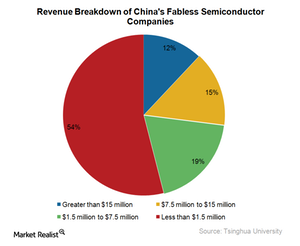 A Look at China's Progress in Semiconductor Manufacturing
By Puja Tayal

Updated
Why is China investing in semiconductor manufacturing?
The US semiconductor industry (SMH) has been keeping a close eye on China (MCHI), particularly after the Chinese government announced plans in 2015 to invest $160 billion to boost domestic semiconductor industry. After so many years, why did China decide to manufacture ICs (integrated circuits) domestically?
These questions were answered by Chinese semiconductor players at the Design Automation Conference in September 2017. Tsinghua University dean Shaojun Wei told EE Times that China purchases 45% of the world's ICs, as it is the world's largest manufacturer of smartphones, digital cameras, and other consumer electronics.
However, China manufactures only 13% of the world's ICs. The nation imports more than $200 billion in chips annually, which created an estimated annual trade deficit of $150 billion in 2014.
In 2014, the Chinese government decided to reduce this deficit. Moreover, there were fears that China's economy would be significantly impacted if foreign foundries would someday stop selling chips to China. Hence, the nation created an IC fund to establish its domestic semiconductor market.
With this funding, China's government aims to start volume production of 16/14nm (nanometer) chips by 2020 with support from domestic equipment and materials.
Article continues below advertisement
US semiconductor companies like Intel (INTC) and Micron (MU) are manufacturing chips on 16/14nm nodes today. By 2020, they could achieve the 5nm (nanometer) node. This trend shows that China is not yet competitive with the US in terms of technology, particularly in terms of intellectual property and industry knowledge.
Progress in China's semiconductor manufacturing efforts
Shedding some light on China's progress so far in domestic semiconductor manufacturing, Wei stated that the government expects to spend 60% of its IC fund on manufacturing, 30% on fabless companies, and 10% on equipment and material.
The availability of government funding created a kind of fabless chip gold rush. The number of fabless chip companies in China increased from an estimated 500 in 2011 to more than 1,300 at present. Fabless companies purely focus on designing and selling chips.
However, Wei stated that these numbers could be misleading, as most companies are very small. Around 13% of these companies generated 81%, or ~$24 billion, of China's fabless revenues in 2016. However, 54% of these companies generated less than $1.5 million in annual revenues.
The Chinese government is unlikely to provide incentives for smaller fabless companies to merge and enlarge, as they are too small for a merger to be effective.
Although China's semiconductor efforts are encountering turbulence, US chip makers believe that government funding would give Chinese companies an unfair advantage. However, Chinese semiconductor executives do not agree with these views. We'll look at China's argument in the next part of this series.