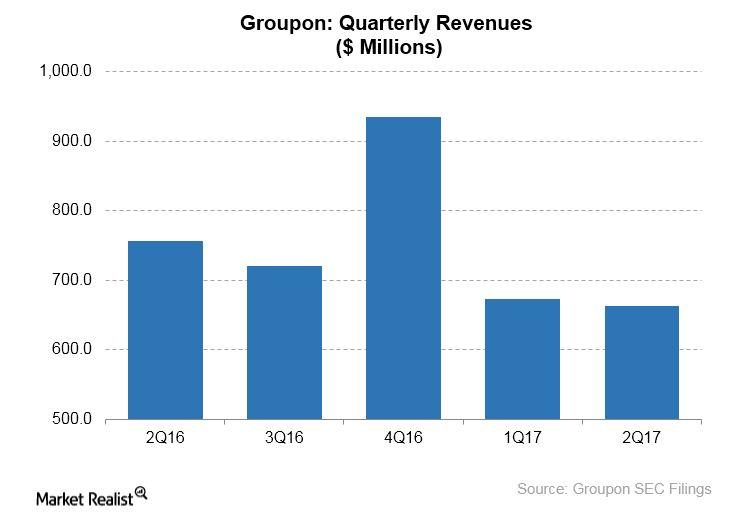 Why Groupon's Debt-to-Equity Ratio Is One of Highest in Industry
High debt to equity implies heavy borrowing
Groupon (GRPN), eBay (EBAY), Baidu (BIDU), Square (SQ), and Twitter (TWTR) have the highest debt-to-equity ratios among industry players. Debt to equity is an indicator of the extent to which a company increases its value by using debt to fund projects. Therefore, a higher debt-to-equity ratio implies that a company is borrowing a lot to finance its growth.
While a company can leverage debt to grow its sales and earnings at a more rapid pace than it would without such financing, the cost of debt can sometimes erode the returns due to high interest expenses.
Article continues below advertisement
Groupon has most leveraged growth
Groupon, a leader in online shopping deals, has a debt-to-equity ratio of 126.12x. The company generated $662.6 million in revenue in 2Q17, which was down 8.0%. However, Groupon's bottom line improved to an adjusted EPS (earnings per share) of $0.02, up from an EPS loss of $0.01 a year earlier.
eBay has a debt to equity of 99.93x. The company reported that its revenue rose 4.5% to $2.3 billion in 2Q17. The revenue was better than the consensus estimate by $20 million.
Baidu has a debt-to-equity ratio of 84.82x. The Chinese Internet search company's revenue rose 14.3% to $3.1 billion in 2Q17. Square has a debt-to-equity ratio of 49.73x. The company's sales rose nearly 26% to $551.5 million in 2Q17, exceeding consensus estimates by more than $15 million.
Despite leverage, Twitter struggles for growth
Twitter, the social media company competing with Facebook, Snap, Yelp, and Alphabet's Google in the online advertising market, has a debt-to-equity ratio of 36.92x. Twitter's sales fell 4.6% year-over-year to $574 million in 2Q17. However, the company still managed to surpass the consensus top-line estimate by more than $37 million.
Amazon and Alibaba are other Internet companies with debt-to-equity ratios in the double-digit territory.