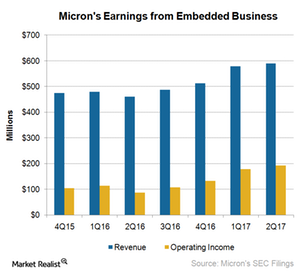 What's the Role of Embedded Business in Micron's Future Growth?
Micron's Embedded Business
So far, we've looked at Micron Technology's (MU) three major markets: personal computer, data center, and mobile. These are already established markets. One segment that is emerging as the next big market not only for Micron but for the entire semiconductor industry is the embedded market.
Micron's EBU (Embedded Business Unit) supplies DRAM (dynamic random access memory) and NAND products to the consumer, industrial, and automotive markets.
Article continues below advertisement
EBU earnings
Micron's EBU revenue rose 19% sequentially to $700 million in fiscal 3Q17 driven by high demand for its products across consumer, industrial, and automotive markets.
It reported record shipments of SLC (single level cell) and MLC (multi level cell) NAND in the consumer and connected home markets. This growth was largely driven by increasing demand for applications such as voice-activated home assistance and set-top boxes.
It also reported record shipments of DRAM and eMMC (embedded multimedia controller) NAND in the automotive market. This growth was primarily driven by growing demand for infotainment and instrument cluster applications.
EBU's non-GAAP (generally accepted accounting principles) operating income rose 33% sequentially to $256 million, equating to an operating margin of 37% in fiscal 3Q17. Profit rose faster than revenue due to rising memory prices.
Key growth drivers
In the data-centric world, almost all electronic devices will eventually be connected to the Internet, a trend that could open a very wide market that ranges from consumer to industrial to automotive. Automotive is the most lucrative, with semi giants like Intel (INTC) and Qualcomm (QCOM) making expensive acquisitions to grab a share of this market.
As the automotive market moves towards self-driving cars, the memory content per car will increase significantly. Autonomous cars, which are expected to hit the road by 2020, would require up to 16 GB (gigabyte) DRAM and 1TB NAND to run AI (artificial intelligence) supercomputer and high-definition maps, stated Micron's chief financial officer, Ernest Maddock, at several technology conferences. By that time, other mid-tier semi-autonomous cars would also have advanced features driving memory content in these cars as well.
Micron is a leader in the automotive memory market with more than a 48.0% share. It is the primary memory supplier to NVIDIA (NVDA) and Intel, both of which are competing in the autonomous car market. Many analysts believe that Intel and NVIDIA will dominate the autonomous car market. Thus, Micron is likely to benefit the most from autonomous cars.
Next, we will see if Micron's technology developments could strengthen its overall earnings and cash flows.