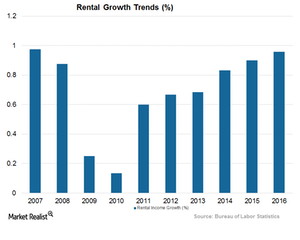 What Lies ahead for Weyerhaeuser in 2017?
Weyerhaeuser's growth momentum
Timberland REIT (real estate investment trust) Weyerhaeuser (WY) expects to continue its growth trajectory for the rest of 2017. Its management is confident about its strong position in the sector and is expected to make full use of the recent boom in the homebuilding industry.
Total housing starts are expected to reach nearly 1.3 million in 2017, and the timberland business, on the whole, also appears to be on track to achieve its target of $40 million–$50 million in operational efficiencies for 2017. WY's management expects the company's fiscal 2017 tax rate to be in the range of 15%–17%.
Article continues below advertisement
Lower profits expected in the timberlands
Timberland REITs expect profits to fall slightly in 3Q17, and WY expects its adjusted EBITDA (earnings before interest, tax, depreciation, and amortization) to decline overall.
Higher-fee harvest volumes and log sale realizations in the Southern Timberlands is expected to be offset by lower fee harvest volumes and enhanced spending on transportation in the Western Timberlands.
Sales to boost profits in the real estate sector
Higher sales in 3Q17 in the real estate business are expected to help WY reap higher profits. Its adjusted EBITDA is expected to be significantly higher than in 3Q16. The adjusted EBITDA for its Real Estate, Energy & Natural Resources segment is expected to exceed $250 million for fiscal 2017.
Wood products
WY's earnings before special items and adjusted EBITDA remained flat YoY in 2Q17, and its average sales realizations and log sales volumes are expected to remain flat on a year-over-year basis. Slightly higher sales and modestly lower sales volumes are expected for 3Q17.
Notably, WY, RYN, and IP make up ~20% of the iShares Global Timber & Forestry ETF (WOOD), which has an expense ratio of 0.48%.