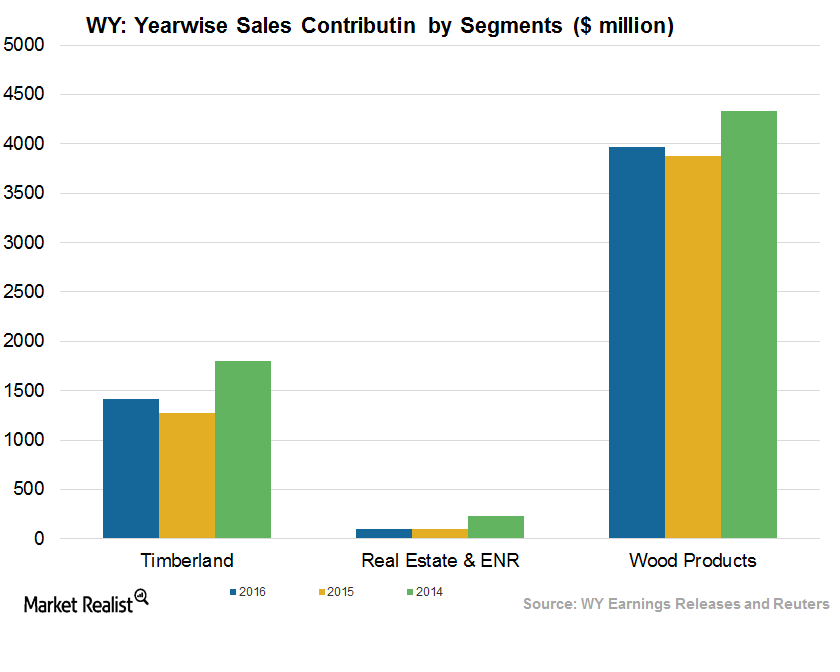 Understanding Weyerhaeuser's Divestiture Policy
Weyerhaeuser's divestitures
Apart from its expansion strategy, timberland REIT (real estate investment trust) Weyerhaeuser (WY) has also undertaken several divestiture policies in order to dispose of its underperforming and non-core businesses.
On September 1, 2017, Weyerhaeuser sold its Uruguay-based timberland properties to a consortium led by BTG Pactual's Timberland Investment Group, or TIG. The sale is in line with the company's strategy of concentrating on its core timber and forest products business.
In 2014, the company sold its home building business, Weyerhaeuser Real Estate (WRECO) to a wholly-owned subsidiary of TRI Pointe Homes. The spin-off was a part of WY's strategy to focus more on its timberland and wood products business.
Article continues below advertisement
Apart from the above-mentioned divestiture, Weyerhaeuser also divested its pulp mill business, Cellulose Fibers, to International Paper (IP). The deal was closed in December 2016 for cash proceeds of $2.2 billion, which were used to lower its debt position. The divested pump mills, which had an annual capacity of almost 1.9 million metric tons, were in Columbus, Flint River, Port Wentworth, New Bern, Grand Prairie, and Alberta.
Notably, the growing US economy has positively impacted REITs like Weyerhaeuser, Rayonier (RYN), Resolute Forests Products (RFP), and International Paper (IP). WY, RYN, and IP make up ~20% of the iShares Global Timber & Forestry ETF (WOOD), which was created in June 2008 has 23% exposure to REITs.