Two Newcomers in the Top 5 Fastest-Growing Semiconductor Stocks
As of September 12, 2017, Nvidia (NVDA) was the fastest-growing stock, rising 185% over the past year, compared to the industry's 32% growth.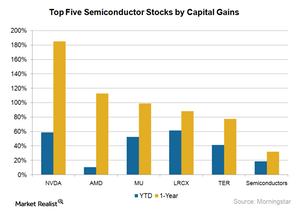 Capital gains
An investor earns from a stock either through a capital appreciation—an increase in stock price—or through dividends. Generally, growth stocks are the ones that deliver above-average returns, but such stocks may or may not give dividends as they are either small companies that reinvest their capital in future growth trends or cyclical companies that create cash reserves to survive the downturn.
Given their volatile nature, growth stocks are risky. Most technology stocks are growth stocks.
Article continues below advertisement
Article continues below advertisement
The fastest-growing semiconductor stocks
As of September 12, 2017, Nvidia (NVDA) was the fastest-growing stock, rising 185% over the past year, compared to the industry's 32% growth. Next is Advanced Micro Devices (AMD), with one-year capital gains of 113%, and Micron (MU) at 99%, Lam Research (LRCX) has gained 88%, while Teradyne (TER) has gained 78%.
Nvidia
This stock has been on a strong growth trend since June 2016, when it launched its Pascal GPU (graphics processing unit). That was also the year when the AI (artificial intelligence) revolution began, and several cloud companies adopted Nvidia's GPUs for their AI tasks.
Now, Nvidia is about to witness another inflection point with autonomous cars, and the stock has not yet priced in this opportunity. For this reason, the stock is not yet oversold, though it has grown threefold over the last 12 months.
Article continues below advertisement
AMD
AMD's stock began its growth journey in February 2016, when it was rumored to be in a licensing deal with Intel (INTC). Although the rumor didn't materialize, over the past 16 months, the company has turned itself from a cash-strapped firm nearing bankruptcy into a profit-making firm. This turnaround made AMD a growth stock.
AMD and Nvidia are small companies in terms of revenue and assets, but their strong stock performances have made them top semiconductor stocks.
Micron
Micron is a cyclical stock and one of the biggest beneficiaries of the current uptrend in the memory market. Its stock price is directly co-related to DRAM (dynamic random access memory) prices, which have been increasing since November 2016 due to tight supply conditions. However, the stock could very well fall when the memory uptrend comes to an end.
Lam Research and Teradyne
Semiconductor equipment suppliers Lam Research and Teradyne are also cyclical stocks as their growth depends largely on capital spending by semiconductor companies. The increasing capital spending by memory chip makers and other semiconductor companies have been driving the stock prices of LRCX and TER, but this growth could fade when investments slow.