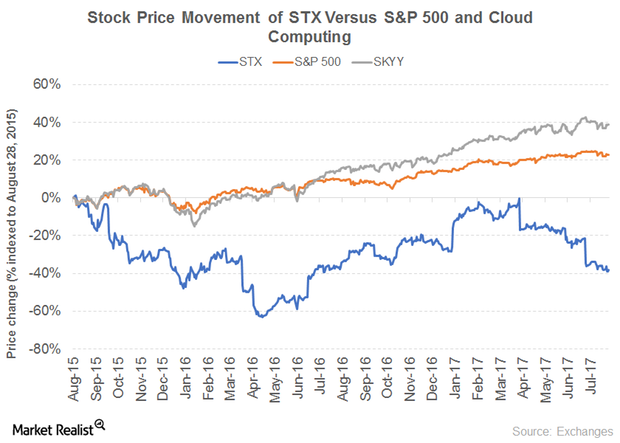 Can Seagate Sustain Its Dividend Yield?
What's behind Seagate's dividend yield 
Seagate Technology (STX) is a data storage technology and solutions provider. The company's revenue, which has fallen over the years, seems to have recovered in 2017. Its revenue has fallen 3% in 2017, compared with a fall of 19% in 2016 due to intense competition in the data storage market. The company's operating income fell 78% between 2015 and 2016 due to a non-recurring gain in 2015. Its operating expenses fell in 2016, leading to operating income growth this year.
Article continues below advertisement
How Seagate's earnings per share compare
Seagate's interest expenses rose 15% in 2017 after falling 7% in 2016. As a result, its EPS (earnings per share), which fell in 2016, recovered in 2017. This growth was also a result of share buybacks. Its free cash flow grew in 2017 after having fallen for a few years. This rise was due to higher operating cash flow and lower capital expenditure.
The company's debt-to-equity ratio has risen from 2.6x to almost 4x between since 2016. Whereas its stock generated positive returns in 2016, its returns have been negative so far this year. It has been outperformed by the data storage industry and the S&P 500. The company's dismal 4Q17 results dragged its stock price down.
Growth in dividend yield
Seagate's dividend per share has increased, and the fall in its stock price boosted its yield. The SPDR S&P Dividend ETF (SDY) offers a dividend yield of 2.5%, at a PE (price-to-earnings) ratio of 20x. The ETF has a 14% exposure to small-cap stocks. The PowerShares S&P 500 High Dividend Low Volatility Portfolio ETF (SPHD) has a substantial stake in real estate. It offers a dividend yield of 4%, at a PE ratio of 17.3x. The ETF does not have any exposure to small caps.