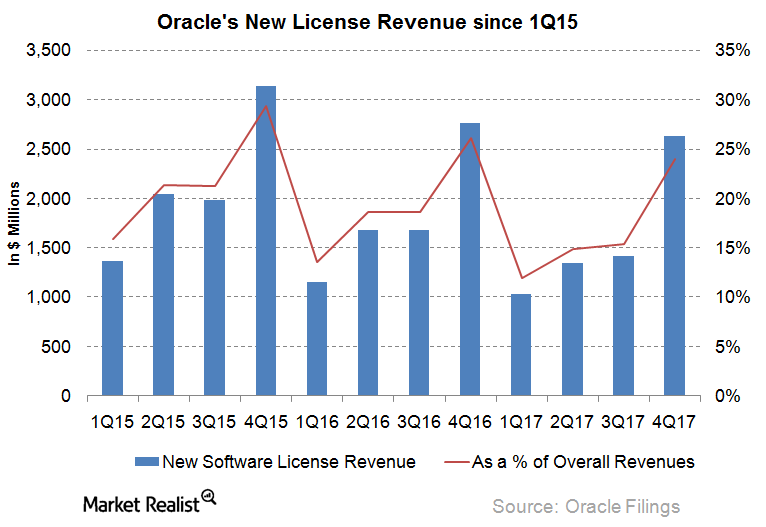 Why Is Oracle Hiring a Month after Announcing Layoffs?
Oracle's plans to hire ~5,000 employees
Earlier in this series, we discussed a round of layoffs announced by Oracle (ORCL) in late August. Around the same time, the company announced that it plans to hire more than 5,000 employees, including consultants, engineers, consultants, and sales and support staff for expanding its cloud operations.
According to the Wall Street Journal, Mark Hurd, Oracle's co-CEO, nearly doubled the company's sales staff to ~35,000 workers in the last six years.
Oracle's expanding sales team has contributed to growth in its quarterly cloud revenues, as the new software license revenues continue to decline. New license sales fell 5% and 12% to ~$2.6 billion and ~$6.4 billion, respectively, in fiscal 4Q17 and fiscal 2017.
These sales figures are considered a barometer for customer demand for their databases and other business applications, providing a better picture of revenue growth.
Article continues below advertisement
Expansion in cloud drives hiring
Oracle's latest hiring announcement negates the viewpoint that Oracle resorted to layoffs solely as a cost-cutting exercise. Employee costs are a significant expenditure for technology companies. So, technology companies often resort to layoffs to keep tabs on these costs.
Tech players keen on cost optimization aim to maximize their revenues per employee. The recent hiring announcement indicates Oracle's growing focus on the cloud.
Oracle's annual recurring revenues (or ARR) surged to $2.0 billion in fiscal 2017 compared to $1.4 billion in fiscal 2016. ARR provides insight into company's ability to attract new customers to its cloud offerings.