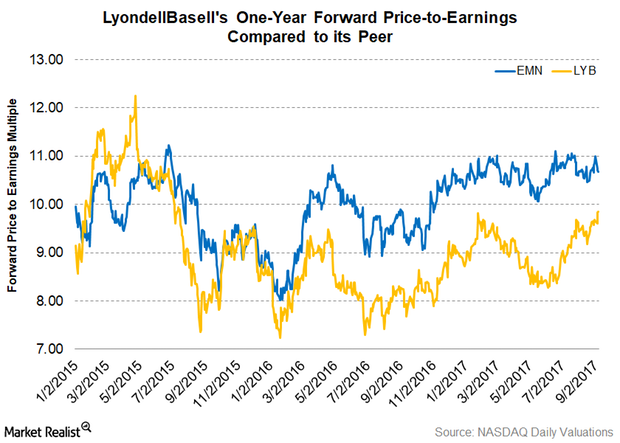 Is LyondellBasell Stock Undervalued Compared to Its Peer?
Forward PE multiple
After covering analysts' views and recommendations in the previous part, we'll look at LyondellBasell's (LYB) latest valuations compared to its peer. As of September 7, 2017, LyondellBasell's one-year forward PE (price-to-earnings) multiple stands at 9.80x, while its peer Eastman Chemical has a one-year forward PE multiple of 10.70x.
The forward PE multiple considers future earnings in order to calculate valuations. The forward PE multiple is one of the many tools that investors can use it to compare two or more companies that operate in the same industry. The multiple can determine which company is overvalued and which company is undervalued.
Article continues below advertisement
Is LyondellBasell undervalued?
Currently, LyondellBasell is trading at a discount compared to its peer Eastman Chemical. In the past, LyondellBasell faced challenges due to maintenance issues and lower productivity. During 2Q17, LyondellBasell's ethylene plants were reported at 98% capacity, while its refineries were at 99% capacity. Management doesn't expect any major planned maintenance for the rest of the year. After LyondellBasell's earnings beat analysts' estimates in 2Q17, analysts expect the company to post EPS (earnings per share) of $9.92 for fiscal 2017—growth of 7.2% compared to fiscal 2016. For fiscal 2018, analysts expect LyondellBasell's EPS to be $9.04, which represents a decline of 8.90% compared to its EPS in fiscal 2017.
Analysts expect Eastman Chemical to report EPS of $7.52 in fiscal 2017—an increase of 11.20% compared to fiscal 2016. For fiscal 2018, analysts expect Eastman Chemical's EPS to be $8.15, which is 8.4% higher than its EPS in fiscal 2017. Eastman Chemical's expected earnings growth is better than LyondellBasell's growth. As a result, the stock is trading at a premium to LyondellBasell.
Investors can hold LyondellBasell indirectly by investing in the PowerShares DWA Basic Materials Momentum Portfolio (PYZ). PYZ has invested 3.50% of its portfolio in LyondellBasell. The fund's other top holdings include Chemours (CC) and FMC (FMC) with weights of 4.90% and 4.60%, respectively, as of September 7, 2017.
In the next part, we'll discuss LyondellBasell's stock performance in 2017.