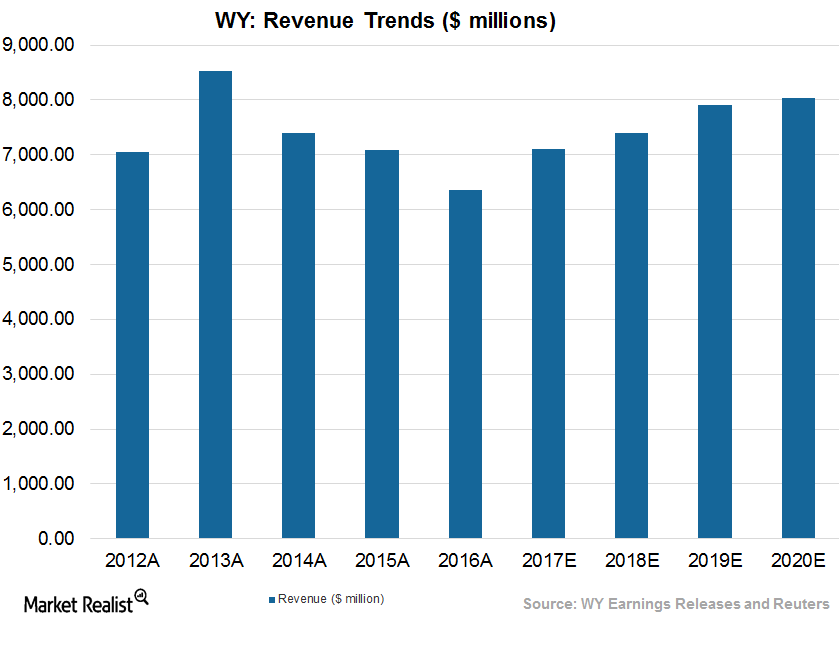 How Weyerhaeuser Fared in 2Q17: The Details
How the housing sector impacted WY's results
The growing economy has helped REITs (real estate investment trusts) including Weyerhaeuser (WY), Rayonier (RYN), Resolute Forests Products (RFP), and International Paper (IP) reap higher profits for the past few quarters.
WY, RYN, and IP make almost 20% of the iShares Global Timber & Forestry ETF (WOOD), which has traded at an average volume of shares of ~14,000. This number may go up, given the upbeat results posted by REITs in 1H17.
The housing sector has recently recovered, after experiencing a slump in 2016. With higher housing starts, homebuilders' confidence has also started to rise. As a result, the gap between demand and supply narrowed in 2Q17.
However, the demand for rented houses is still outpacing supply in the market in premium cities. As a result, these cities are reporting higher rent growth. Housing prices in the US rose 6.6% YoY (year-over-year) in 2Q17, according to the Federal Housing Finance Agency (FHFA) House Price Index.
Article continues below advertisement
2Q results improved on higher sales  
Weyerhaeuser reported higher-than-expected results for 2Q17, backed by strong sales and prudent cost management. Its EPS (earnings per share) stood at $0.28 per share, compared with $0.17 per share in 2Q16 and $0.22 per share in 1Q17.
Its net sales stood at $1.8 billion, compared with $1.65 billion in 2Q16 and $1.69 billion in 1Q16. The strong performance of its Wood Products segment offset the decline in sales in its Real Estate and Timberland segments. WY's earnings before interest tax and depreciation stood at $506 million, compared with $413 million in 2Q16.
Lower net earnings in 1H17
WY's sales stood at $3.5 billion in 1H17, compared with $3.1 billion in 1H16. Its gross margin stood at $893 million, compared with $686 million in 1H16. Lower expenses helped the company reap a higher operating income of $450 million, compared with $387 million in 1H16. However, its net earnings fell to $181 million in 1H17, compared with $227 in 1H16, due to higher income taxes.
In the next part, we'll discuss how Weyerhaeuser is maintaining its growth trajectory.