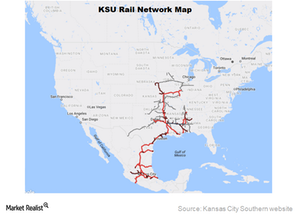 How Harvey Affected Kansas City Southern
Kansas City Southern's network
Kansas City Southern's (KSU) US subsidiary caters to ten US states in the Midwest and Southeast. It also runs a rail route between Kansas City, Missouri, and multiple ports along the Gulf of Mexico in Texas, Louisiana, Alabama, and Mississippi.
Among the major US Class I railroads, Kansas City remains hugely affected by Hurricane Harvey, like Union Pacific (UNP). The former is the only Class I railroad (XLI) that has provided insights into Harvey's impact.
On September 6, 2017, Kansas City Southern (KSU) filed an 8-K with the SEC (U.S. Securities and Exchange Commission). It detailed the storm's impact according to network, revenue and business, operating expenses, and insurance.
Article continues below advertisement
Hurricane Harvey's impact on KSU
KSU noted that Hurricane Harvey had impacted the company's Beaumont and Rosenberg subs, though there was no major damage to bridges, structures, or equipment. The infrastructure damages were limited to water over tracks and signal outages.
Giving some respite to KSU, the cross-border embargos for Rosenberg, Victoria, Corpus Christi, and Houston to and from Laredo were lifted. The company has assessed Harvey's impact, mainly related to track recovery and network inefficiencies, on operating expenses. Notably, Harvey's impact on KSU's rolling stock and bridge infrastructure was minimal.
Kansas City Southern estimates that Harvey's toll on its income statement should not exceed $10.0 million in fiscal 2017. The company has an insurance (PGR) program that covers property damages, additional expenses, and business income loss.
KSU's antitrust issues in Mexico
In March 2017, the Mexican freight rail (BRK-B) sector watchdog, the Investigating Authority of the Mexican Federal Competition Commission, said competition may be lacking in Mexico. The body maintained that this lack of competition has boosted prices for customers. The preliminary findings of the commission, which are likely to be out this month, will have a major effect on the direction of KSU's stock price.