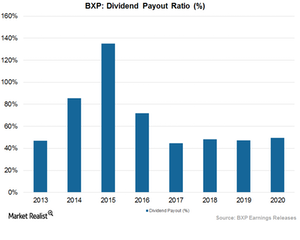 How Boston Properties Returns Value to Shareholders
Why dividends matter
In order to qualify as REITs (real estate investment trusts), companies usually have to pay 90% of their profits (excluding capital gains) as dividends. REITs fund their dividends with the help of rent from their properties, which provides investors with constant and rewarding returns on the stock they hold.
Article continues below advertisement
Boston Properties' dividend payout ratio
Boston Properties tries to distribute at least 100% of its taxable income, inclusive of capital gains, as shareholder returns. Through this policy, the company avoids paying federal tax paid by companies belonging to other sectors. BXP's board of directors hiked its quarterly dividend by 15.4% to $0.75 per common share on December 19, 2016. The new dividend was paid on January 30, 2017, to shareholders as of December 30, 2016. Prior to this, the company had hiked its dividend in November 2012 from $0.55 per share to $0.65 per share. Boston Properties pays dividends regularly.
Apart from regular quarterly dividends, Boston Properties also pays special dividends to its investors. It last paid a special dividend to its shareholders of $1.25 per share on December 12, 2015.
Dividend yield
Boston Properties offers attractive dividend yields to its investors. In the last 12 months, the company offered a dividend yield of 2.3%. Analysts expect it to pay a dividend yield of 2.6% in the next 12 months. The company's dividend yield stood at 2.04% and 2.07% for fiscal 2015 and fiscal 2016, respectively, and expects it to be 2.52% for fiscal 2017.
The dividend payout ratio gives us an idea as to how much of its profit the REIT distributes to its shareholders. The dividend payout ratio for BXP stood at 44.8% in fiscal 2016. Analysts expect it to be 48.2%, 49.8%, 47.2%, and 49.4% in fiscal 2017, fiscal 2016, fiscal 2018, and fiscal 2019, respectively.
Boston Properties' close peers like Simon Property (SPG), Equity Residential (EQR), and Vornado Realty Trust (VNO) also offer attractive returns to shareholders. They make up 15% of the First Trust S7P REIT ETF (FRI), which also offers an attractive yield of 3.6%.
In the next article, we'll look into the valuation multiples of BXP stock.